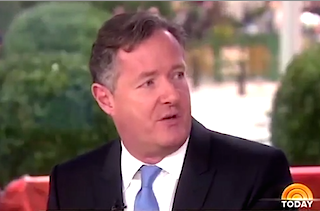 Former CNN host Piers Morgan stopped by the Today show Monday morning, mostly to discuss Prince William and Duchess Kate's visit to the States. But while he was there, Matt Lauer also asked him to weigh in on the recent protests in Ferguson and New York City — something he likely would have been discussing nightly on CNN — as well as Time's shortlist for Person of the Year.
As Today revealed earlier in the morning, the Ferguson protesters, as a group, are one the eight finalists on Time's shortlist, which also includes figures like Vladimir Putin and Taylor Swift.
"You know, I would actually make it probably the Ferguson protesters," Morgan said. "If you ask me what has been the single biggest issue facing Americans right now in this country, it is the whole issue surrounding what happened there. And I think it has to be addressed by the black and white community of this country. Everyone's got to come together and say we are simply better than this. So I would like to see them as the cover of Time and the people of the year."
Earlier in the interview, Morgan weighed in more generally on the issue, saying he definitely sees a racial element in the police killings of Michael Brown and Eric Garner, but stressing that the vast majority of police are good people, from his perspective.
"I think there is no doubt that there is a racial undertone to this," he said. "I think there are certain elements of the police force in this country who I'm afraid are racially profiling people and they are behaving in a way that I think is unacceptable. That is not to say that most of the NYPD, who I've encountered many times, are thoroughly good decent people, but you cannot have people killed on the streets of New York with chokeholds and there simply be no accountability."
Watch video below, via NBC:
Visit NBCNews.com for breaking news, world news, and news about the economy
[Photo via screengrab]
— —
>> Follow Matt Wilstein (@TheMattWilstein) on Twitter
Have a tip we should know? tips@mediaite.com