Piers Morgan Follows Up With Alan Dershowitz: 'Deport Piers' Petition Creator 'Rambling' And 'Unhinged'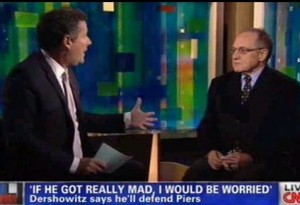 Piers Morgan produced what was perhaps one of the most compelling pieces of television in a while when he brought Alex Jones, the creator of a White House petition to get Morgan deported, on his CNN show. The intense two-part interview got increasingly heated . In the segment immediately succeeding the Jones interview, featuring lawyer Alan Dershowitz, Morgan reacted to the interview, describing Jones as "rambling" and "unhinged."
RELATED: 'Deport Piers Morgan' Creator Flips Out On Morgan's Show: 1776 Will Commence Again If Guns Taken Away
Morgan told Dershowitz right at the outset that people like Jones are precisely why he's "so concerned about the lack of gun control." He described Jones as "pathological" and "unhinged," and noted the irony of how rude Jones appeared to him, when Morgan is normally accused of being rude to and interrupting his guests by critics. He said he tried to stay calm all throughout the interview and Jones' "ranting."
Dershowitz described Jones as an "exhibit" of someone who a reasonable person could look at and say they don't want that particular individual to have a gun. He told Morgan that he would feel uncomfortable having an argument with Jones in his home, considering his temper and the fact he has 50 guns at his disposal.
Morgan expressed concern with Jones' particular influence, with millions of people listening to his "nonsense." Dershowitz dismissed Jones as a crazed conspiracy theorist, and credited Morgan for exposing his ramblings to a general audience.
After playing a clip of the interview, Morgan said Jones isn't interested in the "nuances" of the debate, he just wants to make his point without hearing any evidence to the contrary.
Watch the video below, courtesy of CNN:
—–
Follow Josh Feldman on Twitter: @feldmaniac
Have a tip we should know? tips@mediaite.com
Josh Feldman - Senior Editor