Piers Morgan Grills Carney Over Obamacare Site: At What Point Do Heads Roll Over This?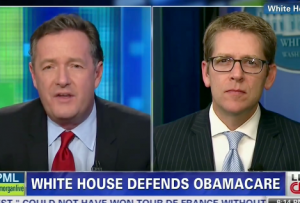 Piers Morgan confronted White House Press Secretary Jay Carney on Monday night over the continued trainwreck of the Obamacare rollout, pushing him on how much they knew ahead of time and asking Carney directly at what point does the Obama administration plan holding someone accountable for this gigantic fiasco.
Morgan asked Carney directly, "What guarantees were given to the president that Obamacare and its systems were ready to go live?" Carney dismissed all the finger-pointing going on, repeated President Obama's line about how no one is more frustrated than him, and admitting that while they knew there would be some glitches, they weren't aware of the scope. Carney assured that Obama is "making sure some of the best minds in the country… are being applied to addressing these problems."
Morgan brought up all the criticisms of the rollout, as well as the suggestion Health and Human Services Secretary Kathleen Sebelius should resign. He asked, "At what point do you consider a head rolling?
Carney replied, "It shouldn't be about making heads roll and firing people." As he continued going on about the benefits of the law, Morgan interrupted and said he already agrees with much of it, but the real issue is that "the system that's designed to facilitate it continues to fail, [so] someone's got to be accountable."
Morgan also pushed Carney on whether they're considering a delay of the health insurance penalty until the glitches get fixed.
Watch the video below, via CNN:
[photo via screengrab]
— —
Follow Josh Feldman on Twitter: @feldmaniac
Have a tip we should know? tips@mediaite.com
Josh Feldman - Senior Editor