Piers Morgan Grills Dick Morris On Getting 2012 So Wrong, Morris Admits 'I Was Wrong At The Top Of My Lungs'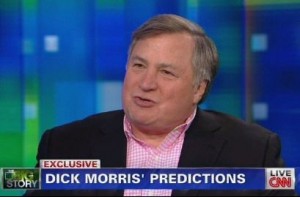 Ex-Fox News pundit Dick Morris sat down tonight with CNN's Piers Morgan to address just how startlingly wrong his predictions for the 2012 election were, his departure from Fox News, and what the Republican party can do to take back the majority in the next election. After Morgan ran videos of his "greatest hits" in inaccurate predictions, Morris quipped, "You gonna sue me?" He admitted to Morgan that he didn't just get 2012 wrong, but he was "wrong at the top of my lungs."
RELATED: Walk Of The Cock: Lawrence O'Donnell Gives Dick Morris Greatest Hits Sendoff
Morris admitted he feels "battered and bleeding" after all the negative press he's been getting. Morgan confronted Morris on how he, a pundit who is supposed to be an expert in his field, got the election so wrong when Nate Silver, a guy who "sits on his computer," crunched the numbers and got it "completely right." Morris defended his overall track record in predicting election outcomes, and when Morgan tried to trip him up with some other clips, Morris joked, "You gonna sue me?"
Morgan remarked that it must have been "humiliating" for Morris to be let go by Fox after being referred to in some corners as "the worst pundit of 2012." He told Morris, "you know people are laughing at you." Morris insisted he has helped dozens of successful political candidates, but the real question is why Mitt Romney lost, and on that score Morris partly blamed Hurricane Sandy.
Morgan doubted this explanation, telling Morris that Obama didn't just win the election, "he just cleaned Romney's clock," and told Morris he just can't blame that on a hurricane. Morris allowed that Obama's margin was so large because of a "fundamental demographic shift" in the country that he erroneously assumed was a one-time thing in 2008. He admitted, "I was wrong at the top of my lungs," and said of his departure of Fox that "at some point a great marriage has to come to an end."
Morris said the Republican party needs to recognize certain realities in the country and adjust their policies accordingly, including fighting for abortions to be rare instead of illegal and to stop getting in the way of individual states that want to legalize gay marriage. He also said that the Republicans seriously need to "reclaim their legacy," citing Wisconsin governor Scott Walker as someone he would like to see leading the party into the next election.
Watch the video below, courtesy of CNN:
—–
Follow Josh Feldman on Twitter: @feldmaniac
Have a tip we should know? tips@mediaite.com
Josh Feldman - Senior Editor