Piers Morgan Grills Gingrich On Gun Control, Gingrich Pushes Back On 'Propaganda'
Piers Grills Newt On Gun Control, Gingrich Pushes Back On 'Propaganda'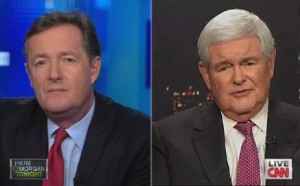 Piers Morgan continued weeks-long push for gun control tonight, this time facing off against former House Speaker and Republican presidential candidate Newt Gingrich. Morgan got particularly heated when Gingrich said he recognizes the need to keep automatic weapons out of the hands of the publish, grilling Gingrich to explain why he has a problem with deadly automatic weapons but not deadly semi-automatic ones.
RELATED: Piers Morgan Tears Into Pro-Gun Panelists: You Don't Support Any Of Obama's Proposals And 'It Makes Me Sick'
Gingrich started out the interview by asking Morgan why he never talks about all the people who use guns to defend themselves. Morgan turned the question on Gingrich, asking him how many demonstrated cases there have been of gun owners successfully using said guns to defend themselves. When Gingrich could not immediately cite statistics, Morgan then pressed him to explain why any American would ever need an AR-15.
Gingrich retorted by pointing out Chicago's high gun violence and its strong restrictions on guns. Gingrich said that regular Americans are not allowed to own automatic weapons because they're deemed to be too dangerous and have too high a rate of fire, to which Morgan countered by saying that the Aurora movie theater shooter had 100-bullet magazines. Morgan pressed Gingrich to explain where he draws the line. Gingrich dismissed Morgan's claims as "propaganda."
Gingrich argued that many liberals would ban all guns if they had their way, reframing the debate as whether or not any proposed laws would make Americans any safer. Morgan continued to grill Gingrich on where he sees the difference between deadly massacres by automatic and semi-automatic weapons. Gingrich shot back by arguing that pistols are deadly weapons too, asking Morgan if he would ban them too.
Watch the video below, courtesy of CNN:
—–
Follow Josh Feldman on Twitter: @feldmaniac
Have a tip we should know? tips@mediaite.com
Josh Feldman - Senior Editor