Piers Morgan: I Don't Believe Majority Of 'Decent, Civilized Americans' Don't Share My Gun Control Views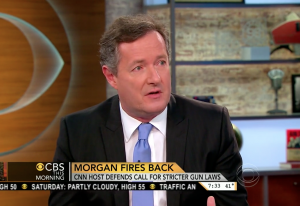 Piers Morgan's vocal gun control advocacy has drawn a great of deal attention recently (particularly in the form of explosive interviews) — and the CNN host paid a visit to CBS This Morning on Thursday to respond to his critics. And the fact that he won't be deported.
Asked what he's accomplished, Morgan said he knew the trend after a mass shooting was to mourn and discuss the issue for a little while and then move on. But Newtown was the "tipping point," he said. "We've made sure this hasn't gone away," and that's crucial.
To that point, Charlie Rose asked: Segments like the, er, loud one he had with Alex Jones "exposes what?"
"I think it exposes the reality of how a section of Americans feel about this debate," Morgan replied, saying some try to frame anyone who wants more gun control as someone who is attacking the Constitution. That isn't the case, he said.
Nonetheless, over 100,000 people signed a petition to get Morgan deported. But he's here to stay.
"Obviously, I woke up to discover the president wants me to stay in America," Morgan said, referring to the White House response to the petition. "This is very bad news for Americans and very good news for Brits."
While Morgan has certainly encountered a barrage of criticism for his views, he said he's also received significant support. People are saying "enough," Morgan added — and even the president shares that view.
"I just don't believe that the majority of decent, civilized Americans do not share my view," he asserted, "that something has to give."
Watch below, via CBS:

Have a tip we should know? tips@mediaite.com