Piers Morgan Tells Mediaite: If Hannity Hadn't Had Sarah Palin Monday, "We Would've Beaten Fox"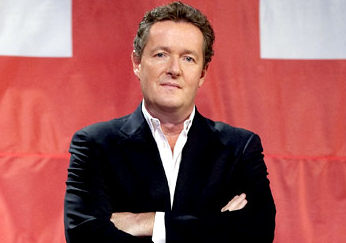 CNN's Piers Morgan is nothing if not confident, and he's not satisfied with second place. Morgan's already looking past MSNBC–he wants to beat Fox News.
The Piers Morgan Tonight host tells Mediaite if not for Sean Hannity's newsworthy interview with Sarah Palin Monday night, Morgan's debut would've won the timeslot–and he's going to try and do just that with guest Howard Stern tonight.

"We had a great start, and I'm following with Stern" said Morgan, whose opening night interview with Oprah Winfrey catapulted CNN past MSNBC's Rachel Maddow into second place, with more than 2 million viewers. Fox's Sean Hannity won the 9 o'clock hour with 2.365 million–helped by Palin's first post-Tucson interview.
"Without that we would've beaten Fox," said Morgan.
The host's even turned to Twitter to tease Hannity:
Msg to @seanhannity – if I don't smack you down tonight with Howard, I'll take you on Thursday with Ricky Gervais. love Piers x
The focus on Fox is revealing, as Morgan, who knows Rupert Murdoch well and has both worked for him as a British newspaper editor, and against him at a competing UK paper. PMT's second-place finish may be getting high-fives at CNN's Time Warner Center, but even a 200 percent increase over Larry King's 2010 ratings wasn't quite satisfying to Morgan:
"I want Fox to think it's now competitive. I always target the number one. I don't think there's any point in targeting any less. It's going to be a long, tough road, but we've made an encouraging start."
Morgan, who said in the leadup to his show's debut that lifting CNN's ratings from their cellar-dwelling status would be the only benchmark of his success, saying he'd be a "genius or a half-wit." So how's he feeling the day after his highly-hyped opening night? "I'd say right now I'm closer to genius."
While some critics have suggested that Morgan's upcoming interview with Golden Globes host Ricky Gervais would've been a hotter interview for Monday night, Morgan remains confident that Oprah–and being on tape, rather than live–was the right decision. Morgan says Gervais will still be a timely interview–and his first since the Globes–by Thursday, and having shot the Oprah interview ahead of time allowed for days of promotion, and the release of buzz-building clips.
"I still believe the reason we had such a big hit with Oprah is using tease video. It's not a question of not wanting to be live. It's just I've developed a formula of doing great taped interviews. So far, I think I've been justified in doing that."
Morgan says when news breaks, he'll embrace a live show. But for building an audience, he won't go live for live's sake, pointing out that Larry King Live wasn't exactly propelled into first place by doing the show live. "I'm not convinced you need to be live with this kind of interview show."
One thing Morgan is convinced of: he's not timid. In fact, the word gives him chills. The host says he read reviews of last night's show and enjoyed the wittiest of the put-downs. "It's hilarious. I've had a 60/40 split in favor, compared to Britain where I get a 90/10 split against." Some reviewers savaged the host as "fawning" in his deference to Oprah, and others called him "obsequious." Reminded of those words, Morgan merely laughed.
But one word, he confessed, hurt. "The word I really objected to was timid."
The New York Times headlined its review of Piers Morgan Tonight "A Timid Beginning." That, Morgan says, felt like "a shard of ice landing in my eyeball. One thing I can never be is timid."
And that, he says, should come as a warning to his upcoming guests, including Mr. Gervais, who sits down with Morgan for a taped interview tomorrow night. "Bad news for all my guests, I've been called timid."
Have a tip we should know? [email protected]