Piers Morgan Inexplicably Accepts A Second Interview With Kathy Griffin, Hilarity Ensues
Piers Morgan Accepts A Second Interview With Kathy Griffin, Hilarity Ensues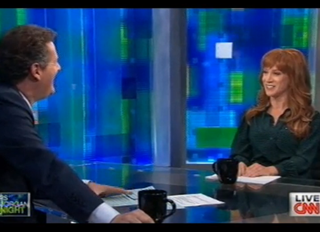 Kathy Griffin was one of the more unpredictable guests to swing by Piers Morgan Tonight when she did so last August. Despite the obvious risks, Piers Morgan invited her back, however, and received something of a grab-bag of thoughts from the comedienne that ranged from how sexy Henry Kissinger's voice is to what her plans are to further embarrass Anderson Cooper this New Year's Eve.
RELATED: Piers Morgan Attempts To Engage Kathy Griffin On The Economy; It Goes Horribly, Wonderfully Wrong
Joking that she had "never had Henry Kissinger open for me before," Griffin returned to the program with gusto, and Morgan happy to indulge her by asking inopportune questions about whether Kissinger was a sex symbol and what she was planning for her fifth New Year's Eve special with Cooper. "I really live for that night," she admitted, and gave away that her plan "is to make the screen turn into a bar code." While she had made previous threats to disrobe on this year's program, today she teased a second assault strategy on CNN: "I'm going to drunk dial Wolf Blitzer."
The conversation then turned to Griffin's life as it was going now: mall appearances she was proud to make ("I have an alcoholic mother and those boxes of wine don't buy themselves!") and her love life– which Morgan ambushed her with somewhat, showing a photo of her boyfriend and simply asking "are you having sex with this man?" after nagging about the man's age for several minutes.
RELATED: Kathy Griffin's Goal Is To Get Anderson Cooper Fired This New Year's Eve By Exposing Herself On CNN

She may be a risky guest, but it's not hard to see why she continues to be a favorite around CNN, during the cheeriest time of year.
The first segment of the Griffin/Morgan interview via CNN below:

Have a tip we should know? tips@mediaite.com