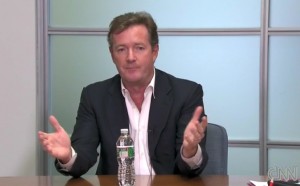 Well the onslaught of Piers Morgan publicity is ratcheting up, evidenced by the steady flow on online clips (which are exceptionally well produced we might add.) The latest features Morgan sharing with his staff plans to avoid predictably partisan takes in his future show and coverage. He also notably both lauds and takes a shot at Jon Stewart for 'jumping the shark' at the end of his rally.
From CNN:
"I don't want to be too nicey-nicey," said Piers. But: "I'm not going to be partisan. Although I have lots of opinions which I will share with you in the bowels of the Mandarin bar at midnight about all sorts of stuff, I don't see the need to be partisan."

The "Rally To Restore Sanity" was still fresh in the minds of those in attendance, and Piers gave his take on Stewart (who he "loves") and the big moment. "Everyone knows Jon Stewart is a liberal, and he turns up at that big rally and he turns into a politician," said Piers. "I don't want to watch him doing that."

Piers recalled Anderson Cooper's Katrina reporting as a defining moment for CNN – and a type of journalism he and the network can strive for. "I think it's very important we stay exactly where CNN is, but just do it in a louder, more aggressive way," he said.
In the clip below Morgan shares his thoughts on why CNN need not chase the partisan point-of-view that has worked well for cable news competitors Fox News and MSNBC, instead lauding the newsworthy brand of his new home network. He then lauds Jon Stewart before criticizing his end of rally speech, and seems to agree with Keith Olbermann that it was a jump the shark moment.
The takeaway? We're certainly intrigued that Morgan seems to not shy away from frank and candid critiques of his peers, even if its something we've heard before. We will be paying close attention.
Have a tip we should know? tips@mediaite.com