As Mediaite Reported in October, Piers Morgan Expected to Lose His 9PM CNN Show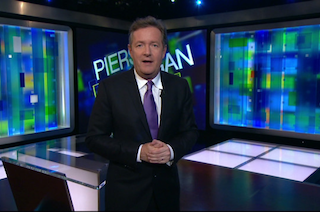 The New York Times confirms what we have long reported: Piers Morgan will lose his 9 p.m. CNN show this year.
Noting Morgan's abysmal ratings as of late, reporter David Carr spoke directly with the British TV host and came up with the following revelations:
Mr. Morgan said last week that he and Mr. Zucker had been talking about the show's failure to connect and had decided to pull the plug, probably in March.

His show, he conceded, was not performing as he had hoped and was nearing its end.

"It's been a painful period and lately we have taken a bath in the ratings," he said, adding that although there had been times when the show connected in terms of audience, slow news days were problematic.

"Look, I am a British guy debating American cultural issues, including guns, which has been very polarizing, and there is no doubt that there are many in the audience who are tired of me banging on about it," he said. "That's run its course and Jeff and I have been talking for some time about different ways of using me."
Last October we reported that Morgan was on the verge of losing his show. We also reported, via CNN sources, that recent hire Bill Weir was a likely choice to take over at least part of the 9 p.m. hour. A new host has yet to be announced, however.
In his remarks to the Times, Morgan conceded the possibility that his frequent anti-gun proclamations may have contributed to his failures to connect with an American audience. "He regrets none of it," Carr wrote of Morgan, "but clearly understands his scolding of 'stupid' opponents of gun laws was not everyone's cup of tea."
"I'm in danger of being the guy down at the end of the bar who is always going on about the same thing," Morgan concluded.
— —
>> Follow Andrew Kirell (@AndrewKirell) on Twitter
Have a tip we should know? tips@mediaite.com