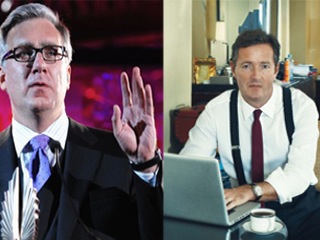 If you thought the battle between Rick Santorum and Mitt Romney* for top spot in Iowa was the roughest exchange of the night, you should probably start following some cable news personalities on Twitter. This time, it was Piers Morgan and Keith Olbermann who found themselves locking antlers via social media because of tonight's Iowa caucus.
RELATED: Keith Olbermann Tweets 'Countdown Will Not Be On Tonight,' Refers Questions To Brass
It appears that Morgan fired the first shot on this one, tweeting about his coverage tonight of the Iowa caucuses and not being able to resist poking fun at the fact that Olbermann, despite being head of the news department at Current, would not be on tonight. He tweeted the following: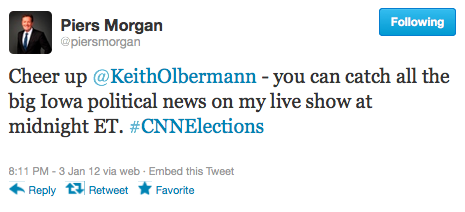 Olbermann, not being one to sit tight on such an insult, responded, "Great! So you'll be showing your latest subpoena?" an apparent reference to Morgan's tangential involvement in the News of the World scandal earlier in the year.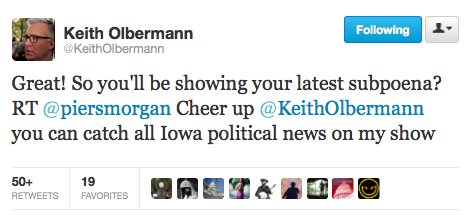 Morgan corrected Olbermann that he had never been supoenaed, but snarked back, "But on the subject of criminal offences [sic], how are your Countdown ratings?" Olbermann didn't address the swipe, instead making a joke about Morgan knowing where Parliament wanted him by hacking phones. As it stands, Morgan is demanding Olbermann concede defeat.
Of course, anyone who has followed Olbermann's career must know that Morgan will probably need a lot of luck for an easy concession, but as this is going on live, Olbermann had yet to respond. It's a silly bit, and somewhat unexpected for Morgan to attack Olbermann of all people on this matter (doesn't Lord Sugar have an Iowa caucus special to mock or something?), but it will surely be an entertaining, live and raw exchange between two hosts that, back in the dark ages before the existence of Twitter, neither host's audience could have imagined seeing develop in real time.
*yes, we know that Rep. Ron Paul is in the mix, too. In fact, I predicted he'd win. But he doesn't work for the purposes if this analogy here.
Have a tip we should know? tips@mediaite.com