Piers Morgan Presses Sean Penn To Clarify Anti-British Comments On Falkland Islands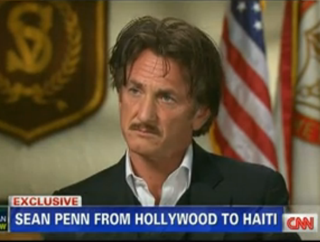 Piers Morgan may be a huge enough fan of America to move here and dedicate the last segment of his program every night to something great about it, but when the sovereignty of the United Kingdom is insulted, he takes up the line of attack. Tonight, Sean Penn, who has newly rechristened himself as some sort of Latin American populist advocate, learned this first-hand as he defended comments against Prince William for visiting the Falkland Islands on a military mission after Argentine president Cristina Kirchner threatened to take action to take the islands back.

RELATED: Actress Maria Conchita Alonso Calls Sean Penn A 'Communist A**Hole' After He Calls Her A Pig
Penn, who had recently proclaimed that "the world will not tolerate the ludicrous and archaic commitment to colonialist ideology" and attacked the deployment. Penn noted that his comments were "not at all" against Prince William himself, who had been deployed there and arguing that the British press attacked him "based on nothing that I had said." He also did not oppose the desire for British sovereignty in the Falklands. He noted that he did want immigration to open up, "because you have about 3,000 people raising goats there and that's about it."
"Those 3,000 people, they consider themselves British subjects. They are a thriving democracy and they are British subjects," Morgan responded, which Penn countered," what does that have to do with anything?" Penn did note he had "mixed feelings" about the first Falkland Islands war in 1982, because "Britain was in bed with a lot of dark people at that time, including and continuing after that time Augusto Pinochet, who was putting rats into the genitalia of women to torture them." Morgan agreed that Pinochet was a monster and pressed him on the question again, but Penn refused to take a position on the war. He also noted that British subjects did not all agree with the action.
As for the Falklands today, Penn conclued that the problem was the "very clear, conscious intimidating having to do with oil" that occurred after reserves were found offshore, when Prince William visited the island. "Next time, call it the Falkland Islands," Morgan concluded, referring to Penn calling the islands the "Malvinas," the traditional Argentine name.
The segment via CNN below:

Have a tip we should know? tips@mediaite.com