Piers Morgan Says Anyone Who Thinks Obama Cannot Fill A Stadium 'Living In Cloud Cuckoo Land'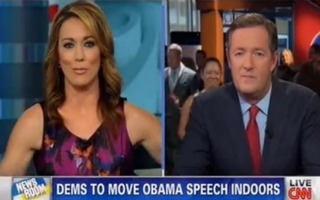 CNN host Piers Morgan joined Brooke Baldwin on Wednesday where he became agitated by the notion expressed by some that the Democratic National Convention cancelled President Barack Obama's appearance at Bank of America Stadium because he could not fill such a large venue.

Baldwin asked Morgan for his thoughts on the DNC making a last minute change in venue. Obama will now accept his party's nomination for a second presidential term in the DNC's regular venue.
"The Democrats say it's the weather," said Baldwin. However, she said that Republican National Committee Chairman Reince Priebus is claiming that President Obama is unable to fill a 64,000 seat stadium in the way that he could in 2008. "What's the truth," Baldwin asked Morgan.
"I think the Republicans would have claimed it was sunny when it was actually raining," Morgan replied. "The reality is, I've been in Charlotte all week and the weather has been getting increasingly tempestuous."
"I think the idea of having an outdoor stadium on Thursday given the way the weather was looking was completely ridiculous," Morgan continued. "They made the right decision. I think anyone who reads into it the idea that Barack Obama still couldn't sell out a stadium is living in cloud cuckoo land."
He said that Obama could have filled the stadium but, amid a downpour in which no one in attendance could hear the speaker, it would have been an unwise move.
Local meteorologist Brad Panovich has questioned the DNC's decision to abandon Bank of America stadium, saying on his Twitter account that "Thursday night will likely be the best weather of the entire week.
It's a simple question.. if you had a #Panthers game, Concert or Soccer match with a 20% chance of storms would you cancel 24hrs prior?
Watch the clip below via CNN:
> >Follow Noah Rothman (@Noah_C_Rothman) on Twitter
Have a tip we should know? tips@mediaite.com