Piers Morgan Scolds MP Who Cited Him During Murdoch Ordeal: 'Show Some Balls!'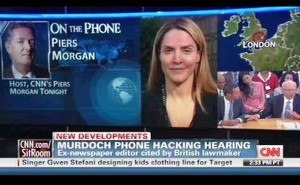 CNN's Piers Morgan stayed relatively quiet for the first few weeks of the News Corp. scandal, but when questions started to arise about his role in phone hacking during his work as a tabloid editor at two separate papers (one of them Murdoch-owned), he began a pushback against these rumors. He denied being involved in any wrongdoing on his show last night, but it took a member of Parliament calling him out by name to get Morgan to aggressively defend himself and his reputation.
MP Louise Mensch brought up Morgan during the Rupert Murdoch testimony earlier today, specifically referring to a portion of his book The Insider: The Private Diaries of a Scandalous Decade that seems to indicate Morgan knew of phone hacking. The excerpt in question specifically reads, "Apparently, if you don't change the standard security code that every phone comes with, then anyone can call your number and, if you don't answer, tap in the standard four digit code to hear your messages. I'll change mine just in case, but it makes me wonder how many public figures and celebrities are aware of this little trick."
Mensch suggested that this implied Morgan knew about phone hacking, but on Twitter earlier, Morgan denied this was the case. Well, on The Situation Room today, Morgan and Mensch were brought together, and the results were nothing short of electrifying.
Wolf Blitzer introduced the segment by first asking Mensch to elaborate on her comments about the CNN host, but she said that she "can't comment about it outside of the committee room." Morgan, who was calling in during the segment, minced no words in giving his thoughts on Mensch's reluctance to repeat her earlier accusations.
Well, I'm amused by her cowardice in refusing to repeat that allegation now… As she may be already aware, she came out with an absolute blatant lie during those proceedings. At no stage in my book or indeed outside of my book have I ever boasted of using phone hacking for any stories.
Morgan again insisted that during his tenure at both The Daily Mirror and News of the World he never hacked phones to get a story or published any story that was obtained through illegal phone hacking. But Morgan directed his comments back at Mensch, and absolutely ripped into her for not repeating her earlier words to his face (so to speak):
What she did today was… a deliberate and outrageous attempt to smear my name, CNN's name, The Daily Mirror's name. And to have the breathtaking gall to sit here calmly and say "I can't possibly repeat that because I haven't got privilege" is an outrage. And I call on you to repeat it, show some balls, repeat what you said about me and then maybe go and buy a copy of my book The Insider and see where in that book, these claims that you made today in a televised committee watched all over the world, where that claim is in that book. because it isn't there.
Mensch refused to respond to Morgan's remarks, and after a commercial break, Morgan re-joined Blitzer on camera this time. Morgan argued that Mensch misunderstood the excerpt of his book. He claims he only brought up the issue of phone hacking in his book because someone he knew told him how easy it would be, and encouraged him to change his pin number. He also questioned Mensch's "parliamentary privilege" defense, dismissing it as "a rather mysterious entity."
Blitzer drew the conversation away from Morgan's umbrage at Mensch and towards his personal relationship with Rupert Murdoch. Morgan credited the mogul for making him one of the youngest newspaper editors in the country, and referred to Rebekah Brooks as "one of my oldest friends." His take from today's Parliamentary hearing was that Murdoch had no idea that any phone hacking took place, and had he known, he would have cracked down on any illegal activities sooner.
Morgan also addressed Murdoch's management style and how the boss rarely interacted with his underlings:
When [Murdoch] says he didn't have much day-to-day contact with these papers, that's true. I spoke to the editors of News of the World maybe once a week, maybe once every two weeks. He never asked me about methodologies of stories, he didn't have time… I had editors, I have managers, I have lawyers, I have accountants. They do all the box ticking here. My job is just to get an overview of what's going on.

When you run a company of 50,000 people, it is a bit ridiculous to expect Rupert Murdoch to be all over the microdetail of how each individual part of the company gets run. As he said, he may have been let down by other people that he charged to look after this detail, and big mistakes were made. And when it came to the phone hacking of the young missing girl and so on, utter outrages. And everybody shares that view.
Blitzer closed the segment by letting viewers know Morgan would have more on the story on his program tonight, so it's clear that although most of the press he's getting is not very favorable, Piers Morgan is suddenly a popular media topic, and everybody wants to hear his unique and very personal take on an issue that has captivated viewers all over the world.
Watch the video of the entire exchange below, courtesy of CNN:
Have a tip we should know? tips@mediaite.com
Josh Feldman - Senior Editor