Piers Morgan Takes On Gingrich: Are You Being 'Overly Pious' About Robert De Niro's Joke?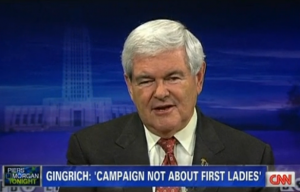 In his interview with Newt Gingrich, Piers Morgan asked him about Robert De Niro's joke about the country not being ready for a white first lady. Saying he might be taking it too seriously, Morgan asked if he's running the risk of being "too pious."
De Niro's joke was "really the wrong thing to say," Gingrich said. He added the campaign isn't about first ladies:
I'm not running against Michelle Obama. The point is, this is about Michelle's husband. … I just thought that De Niro's quote was in bad taste. If it had been a conservative talk radio show host, who said exactly the same thing, but reversed the racial reference, the left would have exploded with rage. But of course if it's one of their own, and after all it's only attacking Republicans, that's perfectly appropriate.
RELATED: Robert DeNiro Responds To Newt Attack: Joke Was 'Not Meant To Offend'
Morgan asked, "Isn't there a slight danger of you being overly pious here? Because I think you knew that he was basically coming out with what I would call a reverse racism joke." Even Ann Romney said she thought the joke was funny, he said, and went on to ask: "Did you really feel offended by Robert De Niro or was it just a chance to whack a Democrat?"
Gingrich replied: "I really think the use of racism by Democrats is just as bad as the use of racism by Republicans. And I really think it's wrong to use racial references like that. Period."
Take a look, via CNN:

Have a tip we should know? [email protected]