Piers Morgan Tangles With CNN Guest Over Whether Post-Zimmerman Debate Should Be About Gun Control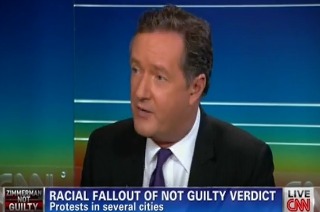 CNN host Piers Morgan appeared on his network on Tuesday morning to discuss what was described by anchor Michaela Pereira as his "compelling" interview with Rachel Jeantel, a witness who testified for the prosecution in the trial of George Zimmerman. During that interview, Morgan engaged in a quarrelsome exchange with another CNN guest over whether issues relating to gun control were central to Florida's case against Zimmerman.

"Is this a discussion about white or Hispanic-on-black crime or is this about the justice system," Pereira asked.
Attorney Khary Lazarre-White replied that the outcome of the Zimmerman trial was about the justice system as much as it was about race and gun control.
"I think that the comments yesterday from Rachel really illustrate that there are these two foundational issues that America still has not come to terms with," Lazarre-White said. "One is that this country was founded on issues having to do with race and the enslavement of black people, and that that continues to have a racial legacy today."
"The second," Lazarre-White added, "is that it's a country founded on the possession of guns, on a revolt that still today we haven't dealt with what gun control looks like in this present day."
RELATED: Piers Morgan Conducts Riveting Interview With Trayvon Martin's Friend, Witness Rachel Jeantel
Pereira turned to Community Advocates Inc. Vice President Joe Hicks and asked about the anti-Zimmerman protests erupting around the country. Hicks dismissed those protests, noting that there was "obviously rampant hooliganism going on here."
Hicks added that the "vindication of George Zimmerman" has become a Rorschach test for the country, inviting pundits to suggest that their pet issue should be central to the post-verdict debate. He said that issues like slavery and gun control were not central to the Zimmerman case and should not be introduced now.
"Hang on," Morgan interjected. "I don't think gun control has been forced into this debate. This is a reality situation."
"George Zimmerman was carrying a concealed weapon, marching around like some kind of Charles Bronson vigilante who comes across a boy who appears to be walking home to his family and an altercation is created," Morgan continued.
"Without that gun, I don't believe George Zimmerman would have felt emboldened enough behave in the way he did," he added. "He probably wouldn't have gotten out of his car. So let's not pretend the gun is not an integral part of this story."
Watch the clip below via CNN:
> >Follow Noah Rothman (@NoahCRothman) on Twitter
Have a tip we should know? [email protected]