Piers Morgan Tears Into Pro-Gun Panelists: You Don't Support Any Of Obama's Proposals And 'It Makes Me Sick'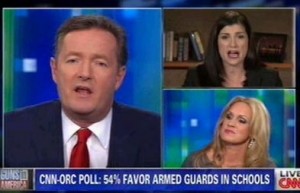 In the past few weeks, Piers Morgan has brought on a number of pro-gun advocates to argue with over gun control, and with each argument Morgan appears to get exponentially more frustrated with their arguments. Case in point, on his program tonight, after repeatedly grilling Dana Loesch on her opposition to restrictions on gun ownership, he told her that listening to her argue so vigorously against gun control "makes me sick."
RELATED: Piers Morgan Rips 'Idiot' Rep Opposed To Background Checks: 'Everything That's Wrong With America'
Morgan ran a clip of Rush Limbaugh saying that Obama is using children like "human shields," and asked what exactly is the problem with children being in attendance at Obama's announcement. Scottie Hughes, whose own brother was killed by a gun, found it hypocritical that Obama was flanked by children yet the White House heavily pushed back against an NRA ad that featured Obama's daughters. She said that the president is unequivocally "exploiting children."
Morgan asked Loesch why any American would need large magazine drums. Loesch brought up a big news story about a New York man critically injured after being beaten to argue that having a gun would be useful for self-defense. Morgan pointed out that no one died in the brawl, and pushed her to explain why she thinks a gun would have helped the situation.
Loesch argued that the Founding Fathers would have put limits on gun rights in the Constitution if they wanted any. She asked Morgan if he's ever fired an AR-15. Morgan said he has not, and Loesch told her that it is much easier to fire than other rifles. Morgan asked her if she wanted all women to be armed with AR-15s, which frustrated Loesch and got her to criticize Morgan for his persistent questioning.
"My goodness, now are you going to go on a tangent every single time I say one thing? You just go off and make up another–Come on, Piers! Stay with me here!… You keep putting words in my mouth every time I try, so stop! Let me finish and we'll get somewhere with it."
Loesch explained that AR-15s appear to be a "scary-looking weapon," but in reality it's "just like any other rifle." Morgan brought up the fact that this particular weapon has been used in the nation's last four mass shootings, demanding an actual answer for why any law-abiding citizen needs one of them. Loesch told Morgan that responsible gun owners should not be punished for the horrible actions of others.
Morgan shot back that the Aurora shooter was also a law-abiding gun owner, and in trying to make the point to Loesch ended up in a three-way shouting match with his two panelists for the next fifteen seconds. Loesch cited the 2011 Arizona shooter as an example of someone who could have been denied access to guns if there had been a proper evaluation of his mental health. She and Hughes said they do not support a single one of Obama's proposed executive orders, which led Morgan to go off on a rant against them.
"The pair of you would like the right to have a tank and you don't agree with a single–a single one of President Obama's proposals for gun control. And you know what? It makes me sick when I hear people say that kind of stuff."
Watch an excerpt of the full segment below, courtesy of CNN:
—–
Follow Josh Feldman on Twitter: @feldmaniac
Have a tip we should know? tips@mediaite.com
Josh Feldman - Senior Editor