Piers Morgan Teases Tonight's Clash With Man Who Started 'Deport Piers' White House Petition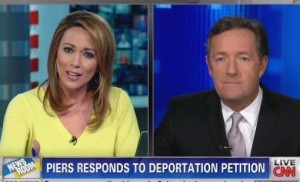 UPDATE: Watch the explosive interview HERE.
You've got to hand it to Piers Morgan: he is certainly eager to get his detractors on his own show and get into shout-fests with them.
Last month, after prolific tweeter and author Carol Roth lambasted Morgan for his views on gun control, he invited her on Piers Morgan Tonight, and a heated battle ensued.
And now, Morgan plans to go head-to-head with another one of his detractors: the man who started the White House petition to deport the CNN host for his "attack" on the Second Amendment.
Appearing on CNN Newsroom this afternoon with Brooke Baldwin, Morgan previewed the fight by directly addressing the petition and further explaining his rather passionate views on the subject of gun control.
"[The petition] hasn't worked because clearly I'm back in America," Morgan teased. "I've been on vacation. I got back last night. The Customs guy in Newark Airport said to me, 'Mr. Morgan, you can relax, we're not going to deport you.'"
Baldwin then asked, "You have this primetime show on CNN, you're on a network that doesn't take sides. Do you ever feel like you're blurring the line?"
"No, because it's not a political issue to me," Morgan responded. "It wasn't a question of being on left or the right. i'm completely baffled why, in America, the NRA and other gun rights groups have allowed this debate and framed this debate in a political manner."
"But, Piers, you have these people on the show, and you call them stupid or a liar," Baldwin challenged Morgan. "A lot of critics are out there and they're giving you flack for doing that."
"I think you should have the flack," he said. "You put your head over the parapet. The reality of this is it's too serious to be quiet. And the media, generally, in America, after these gun massacres, tends to just go very quiet, very quickly.
He then attempted to rebuke the very notion that he was "attacking" the Constitution, leading to the deportation petition: "I'm not anti- the American Constitution. I respect an American's right to defend themselves in their home, or defend their family. There's no defense for a civilian in America owning a military-style assault rifle."
And so, tonight, Morgan will face the Internet user who started the Petition Heard 'Round the World™.
As Baldwin concluded: "It'll be some TV." Indeed.
Check back tonight for our coverage of what is sure to be an "epic" showdown.
Watch below, via CNN:
— —
>> Follow Andrew Kirell (@AndrewKirell) on Twitter
Have a tip we should know? tips@mediaite.com