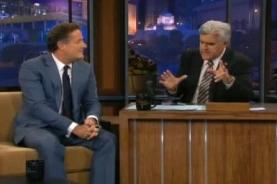 America's Got Talent judge Piers Morgan was a guest on the Tonight Show last night, and Jay Leno waited until segment two to begin the questioning about whether he would take over for CNN's Larry King.
While Morgan said he couldn't "actually talk about that at the moment" it didn't stop some form of conversation from happening – including who Morgan would want as a first guest.
We know Morgan to CNN is a major possibility – Jeff Zucker has said Morgan approached NBC about "another job" and Simon Cowell says he helped "broker the deal." But exactly two weeks ago outlets like the New York Times were saying the move was imminent, and thus far, nothing has been announced.
Maybe it was Morgan's silence that conveyed how close it was to happening. "If I was to go to Vegas, and I was to put a decent amount of money down…" asked Leno.
Says Morgan: "All I can say is a fact today is I have just signed a new three-year deal with America's Got Talent, so…" So? "I can't possibly comment on it. I'm sorry to be cryptic about it."
After a discussion about Morgan: the journalist (while working for Rupert Murdoch), Leno returned to the CNN topic with a question about who he'd want as his first guest. "My dream guest right now would be Nelson Mandela," said Morgan. "An amazing guy…At a time like now, when everyone's at war, they could all do with probably an hour of Nelson Mandela."
Is the CNN audience ready for an hour of Nelson Mandela? The news junkies would certainly enjoy, but it's not clear if Nielson would see a spike. But looking at Morgan's history as interviewer, his addition to CNN's prime time line-up could be an interesting, potentially hugely successful move. Through appearances like Leno, he gets introduced to millions of Americans who may not know him – but it will take newsier appearances to begin the public shift from viewing him as a reality TV competitor or judge to a news guy.
As he continues the 'no comments' though, speculation will continue to swirl. Here's the Leno second segment:


—–
» Follow Steve Krakauer on Twitter
Have a tip we should know? tips@mediaite.com