Piers Morgan Thinks He's An Aaron Sorkin Character: Inside The Newsroom's PaleyFest Panel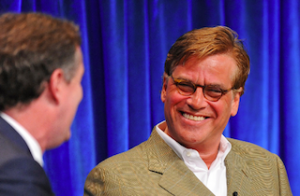 It was a Sunday night in Los Angeles, and Piers Morgan was back on the red carpet. But this time, he was one of people answering questions. Morgan was in town to moderate the panel discussion with Aaron Sorkin and the cast of HBO's The Newsroom for the Paley Center for Media's annual PaleyFest. The close to two hour event ended up revolving around Morgan and CNN as much as it did around the fictional Will McAvoy and ACN from the show set in the world of cable news.
The Newsroom, for the uninitiated, aired its first season on HBO last year and it set to return for its second this spring. Unlike Sorkin's The West Wing, which took place in a completely parallel political universe where everything was fictional, The Newsroom is set in the very recent past, so that the fictional news team can cover real stories. Last season, the news team got a chance to cover the BP oil spill and the Gabby Giffords shooting, among other stories, with Sorkin often giving his romanticized version of what he wished the real cable news shows had done with their coverage. It's quite possible that he watched someone like Piers Morgan report on one of these stories and set out improve what he saw.
Once the panel was underway, Olivia Munn, who plays serious financial news analyst Sloan Sabbith, was the first to call out TV journalists like Morgan and others for injecting themselves into the story, whether by walking the red carpet or causing a Twitter war with Jonah Hill. "I like seeing my news anchors just be my news anchors," Munn said, adding that journalism should be about "other people's stories."
Morgan pushed back on this premise when it comes to Jeff Daniels' character Will McAvoy in The Newsroom. "Surely, the moment it all comes alive for your own anchor is actually when he becomes more involved in the story, becomes more opinionated, begins to express himself, begins to seize an issue and run with it," Morgan said. "I think it's when Will becomes opinionated, gets angry on air, that it all comes alive."
Munn agreed that there's nothing wrong with an anchor expressing an opinion, but argued that "to make yourself newsworthy is so egotistical and so self-absorbed."
Whether Morgan was trying to steer the conversation towards a comparison between himself and the fictional McAvoy was not clear, but her comments evidently struck a nerve because he abruptly changed the subject, joking, "well, fortunately, you'd never get me doing that, so we can move on." But when he was praising the character on the show for "seizing an issue," as he has notably done with the gun control debate in recent months, it was hard not to see a connection in his mind between what he sees on the show and what he does nightly on CNN.
Shortly after this exchange, Morgan drew another parallel between reality and fiction by sharing some inside details about new CNN head Jeff Zucker's role at the network. He revealed that CNN's recent wall-to-wall coverage of the stranded Carnival cruise ship was wholly Zucker's idea. Morgan explained that initally he didn't care about the story at all, but after watching it for a while, he became completely "engrossed" in it, calling it "great programming."
Sorkin responded by asking if there's any way that Zucker could apply that same talent to a story like the sequester. He wondered if there was a way for CNN to take a seemingly dry and complex story and make it understandable and even exciting for viewers.
Morgan responded, "Honestly? No," calling the sequester one of the most "supremely boring stories ever told on television." He admitted that he could not figure out a way to make people care about it, but was looking forward to seeing how The Newsroom dealt with it in its second season.
Morgan was eager to find out which news stories from the recent past the show would be focusing on when it returns. Sorkin revealed that the second season would cover most of 2012, through the election and a bit beyond. He said in addition they would cover the Trayvon Martin case, the Supreme Court's Affordable Care Act decision and drones.
"Do you get into guns with Aurora or Sandy Hook?" Morgan asked. Sorkin said that the show goes right up to Sandy Hook, but that he was still deciding if and how to cover it.
Sorkin said that a tragedy like the Sandy Hook shooting is tough to write about "without minimizing it or exploiting it." This led Sorkin to bring up Morgan's recent interview with Alex Jones, the man who had organized the petition to have him deported.
Continuing, Sorkin said that the interview served as inspiration for The Newsroom, and while he wouldn't want to recreate the "instant classic" exactly, he will look at the "theatrical elements" of the interview to create future scenes for the Will McAvoy character.
In the end, a question from the audience cemented the idea of Piers Morgan as the closest thing the real world has to an idealistic Sorkin-esque anchor. Someone asked the question that Sorkin got constantly during the first round of press for the show: who was the inspiration for Jeff Daniels' character? While the audience member said to exclude Morgan because he was in the room, Sorkin didn't hesitate to hold up Morgan as one of the anchors that comes close, at times, to achieving the noble journalistic heights to which the character aspires.
To top it off, Morgan even paid tribute to Sorkin and the show by saying that he has watching the Will McAvoy character and taken inspiration from him. He implied that was part of the reason Piers Morgan Tonight decided not to cover the Jodi Arias trial last week, instead keeping the focus on guns. He said that HLN's non-stop Arias coverage destroyed his show in the ratings, but like Will McAvoy, he was determined to cover news that mattered.
Looking back at the direction Morgan's CNN show has gone over the last several months it makes sense that he views himself as living out the idealistic career of an Aaron Sorkin character, seizing an issue he deeply cares about and hammering away at it, ratings be damned. But with his new boss Jeff Zucker, who would choose to run 24 hours of "poop ship" over Congressional budget fights, how long will Morgan's crusade last?
[Image via Kevin Parry for Paley Center for Media]
—
>> Follow Matt Wilstein (@TheMattWilstein) on Twitter
Have a tip we should know? [email protected]