Piers Morgan To Herman Cain Lawyer Lin Wood 'You Don't Want To Tell Me The Facts'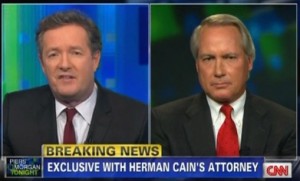 On Piers Morgan Tonight tonight, Piers Morgan interviewed Herman Cain attorney Lin Wood about the allegations against Wood's client, including the latest from Ginger White. Morgan challenged Wood's assertion that the alleged affair was off limits for inquiry. Morgan pointed out the potential for blackmail of a president, and noted that Cain has been telling his side of the story publicly.
He also destroyed Wood's repeated assertions that Ms. White's accusation was unsupported, based solely on what Cain has publicly admitted. "he says 'I knew her for 13 years, I've been paying her money, I've been calling her and texting her, I didn't tell my wife. But it's not an affair. This is not as simple as you're making it out to be."
Wood speculated, as Cain has, that Ms. White might have seen financial benefit in accusing Cain publicly, then posed a fundamentally dishonest straw man argument. "The candidates in this race better be careful, because if any one person comes out and says that about any other candidate, you're going to be on the air saying that you want that candidate to answer every detail of his or her life as it might relate to this person, and probably others, and that's a slippery slope that i don't believe this country wants to go down."
The problem with that is that none of the accusations against Herman Cain are based solely on one person's word. There were cash settlements, and as Morgan pointed out, many of Herman Cain's own admissions are suspicious.
After ten minutes of evasions by Wood, Morgan concluded, "You don't want to tell me the facts."
"If you're not here to talk about private matters of Mr. Cain," Morgan asked, "why are you doing the interview?"
Here's the clip, from CNN's Piers Morgan Tonight:
Have a tip we should know? tips@mediaite.com