Piers Morgan To Marc Lamont Hill: How Would Things Be Different If Trayvon Was A Young Black Girl?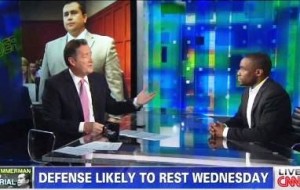 During a discussion on the George Zimmerman murder trial tonight, Piers Morgan posed a question to his panel about the impact of race and gender on the trial. He suggested that if Trayvon Martin was a young black girl, and Zimmerman was on trial for killing a girl and not a young boy, "we wouldn't be having this conversation" and there would be no question of Zimmerman's guilt.
Morgan first asked if the presence of Martin's emotional mother in the courtroom would resonate with the all-female jury. Shawn Holley said that happens in some cases, but ultimately juries are supposed to "put that aside… and focus on the evidence." Marc Lamont Hill admitted the defense has "done a masterful job" of putting Martin's character on trial and forcing the jury to ask themselves what they would have done if they had seen Martin walking down the street.
Morgan then brought up this hypothetical question about how the conversation might have turned if Trayvon was not a young boy.
"What if Trayvon had been a young black woman and she had been scared by being followed by this guy?… If it had been a young black woman walking home and she had turned around and punched him in the face, for argument's sake, we wouldn't be having this conversation, would we? He would have been convicted."
Hill agreed, adding that society doesn't really view young black men as "victims of violence, only as purveyors of violence."
Watch the video below, courtesy of CNN:
—–
Follow Josh Feldman on Twitter: @feldmaniac
Have a tip we should know? [email protected]
Josh Feldman - Senior Editor