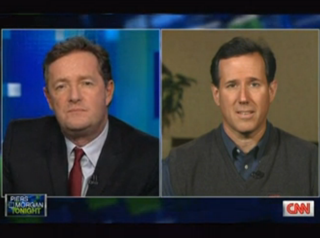 Rick Santorum is no stranger to the set of Piers Morgan, having fielded fairly difficult questions from the CNN host not so long ago. Tonight, he returned at the top of several national polls, and after a segment where Morgan and Santorum discussed the current status of his campaign and whether he was happy with how far he had gotten, Morgan brought up a question that many moderate to liberal voters have of the candidate: "Does Rick Santorum like women?"
RELATED: Piers Morgan To Santorum: Would You Let Your Daughter Get An Abortion After Rape?
Despite how pointed the question was, Santorum took it in good spirits, as Morgan elaborated the premise for it: given the current contraception debate in the media, many are wondering whether his opinion on birth control and abortion meant that he had a backward understanding of the place women have in society. "It would seem to me," Morgan told Santorum, "that your view about contraception is that, basically, it is wrong outside of marriage."
Santorum thought that was a fair assessment of the way he perceived it. "That is the Catholic Church's position on it, period. It's wrong." He did not think it was the government's position to make a statement on that, though. He noted that "it should be available" and that he had voted for funding for contraception "domestically and internationally, and would not support any law that would prevent that." His objection was not with the legality of it, but with the imposition of it on religious institutions.
Morgan then left the topic of contraception to ask Santorum about a subject no one else likely would have asked Rick Santorum: Whitney Houston. "Celebrities are the aristocracy of America," Santorum replied, adding that he considered her death "disturbing," especially since "you see, in a sense, the royalty of America setting such a poor example."
The interview via CNN below:

Have a tip we should know? tips@mediaite.com