Piers Morgan: You Wouldn't Tell Nelson Mandela 'He Has No Right To Comment' On Trayvon Martin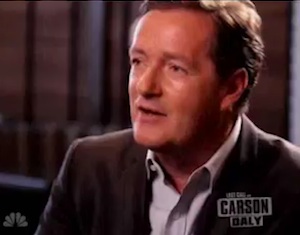 CNN's Piers Morgan sat down with Carson Daly on NBC's The Last Call, where he revisited his contentious interview with Toure. Morgan revealed he would've liked to have countered Touré's mentions of his nationality by bringing up South African leader Nelson Mandela.
"When the likes of Touré berate me for my interview style," Morgan shared, "I say 'well, you don't watch the show very often' because that's the way I interview everybody."
Daly played a clip of Touré slamming Morgan over his nationality, having said "You are too new to the situation to fully understand what's going on here, and what's really at stake for America,"
"You say, 'hey, you're saying all this stuff in the private sector. Here we are, call me on it, point to the place where I let Robert Zimmerman off the hook, point to it, here we are live' and he really couldn't do it," Daly observed.
RELATED: Piers Morgan And Touré Finish Their Twitter Feud On CNN's Air
"No, he couldn't do it. The answer I wished I'd given him was one I thought of in the bath that night," Morgan revealed.
Daly interrupted Morgan momentarily to joke about him taking a bath.
"You're all of a sudden so cool, you're like the new John Wayne in this country, and you just say you take a bath," Daly ribbed.
"…So, I was in the shower," Morgan joked. "Well, I wish I'd said to him, it was the moment when he said to me 'Look, you've only been in America six or seven years and you have the gall to try and question me about African American culture or the black community? How dare you!' was basically what he was saying. And I wish I'd said to him, 'You know, I have spent six years longer in America than Nelson Mandela. I don't think you'd be saying to Nelson Mandela he has no right to comment on the Trayvon Martin case.' That would have been a killer response to Touré."
"You sit in the tub and go 'why didn't i think of that!,'" said Daly.
"I was thinking, that would have been such a perfect answer," Morgan replied. "So, often I'm in the shower, rarely in the bath, actually. Sometimes in the pool, and I'll be going 'god damn it, why didn't I say that?' But we all do that."
Watch Morgan dish to Daly about Touré below, via NBC:
Have a tip we should know? tips@mediaite.com