Piers Morgan, Weiner, Anthony Douthat, and Ben Ferguson Battle Over Shutdown, Obamacare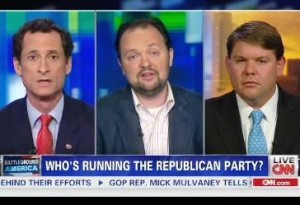 Piers Morgan, Anthony Weiner, Ross Douthat, and Ben Ferguson all faced off Thursday night over the ramifications of the government shutdown for the Republican party and the continuing fight over Obamacare. Ferguson battled the others over who's really to blame for this whole mess, the GOP or the intransigent Obama.
Weiner admitted he's not optimistic about avoiding another crisis like this, while Douthat stated quite clearly the GOP had "completely implausible goals" and no clear strategy to obtain them. He said there is "justifiable embarrassment" among House Republicans. Ferguson argued that there was one important thing the GOP got out of this: dragging Obamacare into the spotlight to let the American people know how bad it is.
Weiner shot back that "undoing something someone else did" "doesn't count in my book as being for something in Washington," arguing they need a better strategy than blanket Obama opposition. Ferguson insisted Obama hasn't negotiated on anything, and in the second segment Douthat agreed with Ferguson that "just being against Obamacare" might be good enough for now.
The panel also took on the Republican "civil war," with Weiner and Ferguson agreeing that people like Ted Cruz have come out of this looking good and "the John McCains of the Republican party are done, they're has-beens." Douthat added that Cruz is very popular among tea partiers, but abysmally unpopular in the rest of the country.
Weiner asked, "Was there no lesson learned from 2012 in the Republican party?" Ferguson shot back there was one important lesson learned: no more Mitt Romneys.
Watch the video below, via CNN:
[photo via screengrab]
— —
Follow Josh Feldman on Twitter: @feldmaniac
Have a tip we should know? tips@mediaite.com
Josh Feldman - Senior Editor