Piers Morgan Wisely Departs America's Got Talent To Focus Entirely On CNN Show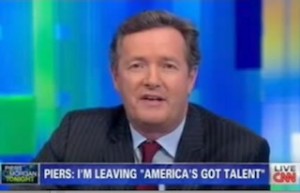 While a nation of politically obsessed news junkies were furiously cracking-wise on Twitter last night while watching CNBC's GOP debate, another important development was happening on another cable news outlet. During last night's episode of his eponymous show, Piers Morgan announced that he would be stepping down as judge on NBC's hit competitive reality show America's Got Talent to focus entirely on "what will be a huge year at CNN with the upcoming election."
Fans of NBC's America's Got Talent are sure to miss Morgan, who fills that show's Simon Cowell brutally-honest judge role, but from a cable news perspective, America is better served by the talent Morgan displays as interviewer.
Skeptics might see this as a rather small item, but an underlying factor in his decision deserves notice, and that is this: Piers Morgan may very well be the best political interviewer on cable news today, as evidenced by his 30% increase in viewers since he debuted. The former editor at a British tabloid entered the cable news landscape with pretty big shoes to fill. Like his predecessor Larry King, Morgan's strength is interviewing celebrities and pop culture icons, or at least that's the conventional wisdom. His real strength, however, is his refreshingly original and non-doctrinaire interviews with political figures, perhaps best illustrated recently by his conversation with GOP presidential buzz-builder Newt Gingrich.
The Gingrich interview is instructive of exactly what makes Morgan such a compelling interviewer of political personalities. Like much of the voting public, Morgan's focus isn't mainly on policy and political gamesmanship; after all, that's the sort of television programming easily found on the 23 other hours of cable news programming. Instead, Morgan uses the very journalistic techniques he honed by covering celebrity culture to get to the character — one might even daresay the psychological profile — of his political subjects. With Gingrich, Morgan bravely intuited a seething bitterness in the former House Speaker in the context of the recent Herman Cain scandal, asking if his consistent attacks on the media over its thirst for "gossip and destruction" wasn't just residual "bitterness" from his own scandals talking. It is almost impossible to see any other cable news host take such a unique line of questioning.
Morgan may, in fact, benefit from the low expectations of his subjects; there are numerous examples of his political guests being lulled into an overly relaxed comfort level, only to accidentally make news. Take, for example, Herman Cain's bungling of his position on abortion rights; Tim Pawlenty's premature announcement of his presidential campaign; Morgan's challenging of Michael Moore over Occupy Wall Street movement and Christine O'Donnell's walking off the set for reasons that are still unclear to those who watched the interview. Piers Morgan makes for very good political television.
The cable news landscape is filled with titans of the industry, but Morgan has carved out a refreshingly distinct position. Larry King once said of Bill O'Reilly that he uses his interview subjects as props to further his own point of view. Rachel Maddow is a consistent font of rational, if not overly nutritious, progressive thinking, but rare is the moment in which she has on a guest with an opposing perspective. Cynics might say that cable news prime time programming on MSNBC and Fox News has become comfort food for lazy individuals looking to have their own opinions reinforced. This is what makes Morgan a breath of fresh air. He doesn't define himself in any political dogma, which allows him to ask more entertaining questions.
Shortly after he launched his show, a surprising number of big news stories forced Morgan, and well-regarded PMT Executive Producer Jonathan Wald, to call an audible, wisely choosing to cover breaking news live in studio, saving taped interviews (with b-level celebrities like Kid Rock) for another day. Morgan was forced to anchor coverage of serious news stories like the uprisings in Tunisia, Egypt and Libya alongside the Japanese Tsunami and its aftermath, as they were happening. It would seem to be an uncomfortable place for an individual best known in the United States as a reality show host, but Morgan proved himself capable of playing both high and low brow culture. It's a versatility that marries well with the many Americans who are choosing to tune into his show in increasing numbers.
Piers Morgan Tonight is a very good program for CNN; his ratings are up 30% in the key demo. In that same time slot, MSNBC is up half that amount and Fox News is relatively flat. More importantly, there is no other show like it on the current cable news landscape. Let's hope he continues to book more political guests – the country is better for it.
Watch Morgan's announcement below, courtesy of CNN:
Have a tip we should know? tips@mediaite.com