Pizza Hut Offers Free Pizza To Anyone Who Asks Obama And Romney Their Favorite Toppings At Debate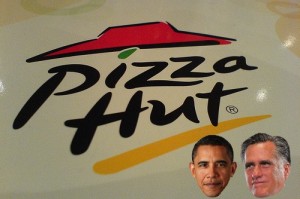 If you've ever wondered how much companies are willing to go for free publicity, we may be approaching the apex. Pizza Hut is offering free pizza to anyone who asks Barack Obama or Mitt Romney at next week's town hall debate if they prefer sausage or pepperoni on their pizza. Not a general question about toppings, specifically about sausage or pepperoni.
RELATED: Papa John's CEO: ObamaCare Means Higher Pizza Prices
This foray into politics comes on the heels of the pizza franchise declaring last week that they are officially forming the "Pizza Party." In a press release, Pizza Hut said that their Big Dinner Box is "the greatest tasting economic stimulus package in American history."
Now Pizza Hut is upping the ante and trying to get their movement mentioned at next week's debate between Obama and Romney, by making the following promise to the people in attendance at the town hall.
The Pizza Party is offering free pizza for life* to an official attendee who asks either of the participants the age-old burning question – Sausage or Pepperoni? – during the live telecast town hall format presidential debate…

"We recognize there are a lot of serious issues to be debated, but we also know a lot less serious – but no less important – ones are being discussed every night inside houses across the country," said Kurt Kane, CMO, Pizza Hut. "So for the candidates to be able to show that they're in tune with all the issues, we felt a pizza-related question on behalf of The Pizza Party was very appropriate for a town hall debate."
So will Pizza Hut become next week's version of Big Bird? Or will one of the two candidates making an awkward joke about their love of sausage?
h/t POLITICO
Have a tip we should know? tips@mediaite.com
Josh Feldman - Senior Editor