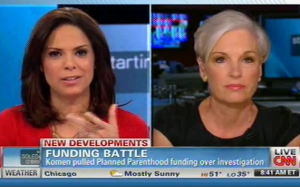 Planned Parenthood president Cecile Richards spoke with CNN's Soledad O'Brien about the controversy brewing over the Susan G. Komen Foundation's decision to cut funding from the organization, and seemed genuinely bothered personally by the dust-up.
"We share the same goal," Richards stressed. "We want women to have access to breast cancer screening and care. It's my sincere hope that we can put this behind us and that we can work with them and they'll reconsider their decision to end grants to planned parenthood clinics."
RELATED: Susan G. Komen Founder Tells Shocked And 'Anger'(ed) Andrea Mitchell, They Didn't De-Fund Planned Parenthood
Richards thanked New York City Mayor Michael Bloomberg for coming out in support of the group and tried to be diplomatic about the Komen controversy.
"We can't let bullies prevent women from getting health care access in America," Richards said referring to right wing pressure for the end of funding. "Whether it's breast cancer screening, family planning services, and the like –"
"It's kind of sad," O'Brien interjected, "that you have two women's groups that are the best known and very powerful, and they're… fighting. It's like cat fighting."
"We're not fighting, Soledad," Richards insisted.
"You're not fighting? Really?!" O'Brien pressed. "Come on!"
"No, I think — look, the Komen Foundation has been attacked by the right-wing for working with Planned Parenthood," Richards reiterated. "I think what we're seeing and what we've seen across the country is Komen employees, Planned Parenthood supporters standing up and saying, you know, we can't let politics get in the way of women's cancer screening."
Watch Richards' interview with O'Brien below via CNN:

Have a tip we should know? tips@mediaite.com