Planned Parenthood President: 'Militant' Group Using 'Sensationalized Videos' to Smear Us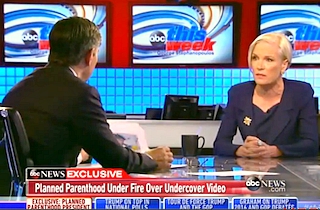 Planned Parenthood President Cecile Richards appeared on This Week Sunday morning and defended the women's health organization against undercover videos released in the past two weeks purporting to show officials attempting to sell fetal organs for profit, something group strongly denies.
"This has been a three-year, well-funded effort by the most militant wing of the anti-abortion movement of this country to entrap doctors," Richards said. "They were completely unsuccessful [at entrapping doctors], so now they're using very highly edited videos, sensationalized videos, to try to impugn and smear the name of Planned Parenthood. They have zero credibility."
Planned Parenthood in rare cases arranges the transfer of fetal tissue for medical research purposes, but denied it sold body parts for profit or altered its procedures in any way to make the sales more viable.
"If there's no financial benefit to the clinics, why are they haggling over the cost?" Stephanopoulos asked.
"They're not," Richards said. "The only people that are haggling in these videos are the undercover folks…It's completely taken out of context."
Richards repeatedly maintained that the clinics did not benefit financially from the sale of fetal tissue, stressing that Planned Parenthood was 100% non-profit and that any money that changed hands was merely to cover transport costs. "This entire effort is a complete political smear campaign to cut off funding for basic health care for women in America," she said.
She also defended the decision of woman to allow fetal tissue to be sold, which she said was a rare transaction anyway. "This isn't something that should be criticized, this is laudable, that woman and their families choose to make fetal tissue donations in order to potentially save lives of other folks," Richards said.
Watch the clip below, via ABC News:
[Image via screengrab]
——
>> Follow Evan McMurry (@evanmcmurry) on Twitter
Have a tip we should know? tips@mediaite.com