'Playing It Safe': Fox & Friends Host Questions If Leno's 'Paying The Price' For Being 'Fair And Balanced'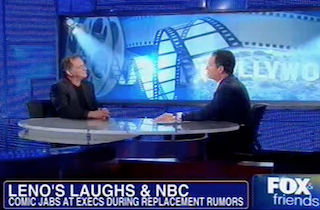 "Are the kings of late-night TV censoring their comedy and shying away from jokes President Obama?" asked Fox & Friends host Brian Kilmeade on Tuesday. He invited comedian and author Evan Sayet — who believed the answer to that question is "yes" — to discuss. Jay Leno, Kilmeade noted, may be the exception to that.
Sayet argued that the "primary goal" has changed from being a comedian to being an advocate. "Liberals believe this is war," he said. "And when you make fun of your candidate, it's friendly fire."
Among the late-night hosts, Leno, Kilmeade observed, is the "fair and balanced" one — "and he might be paying the price for his job." While Sayet said he didn't know about NBC's internal affairs, he deemed it, "at the very least, suspect." After all, he's topping the ratings and still getting "fired"?
"Maybe they just couldn't tolerate a guy at the top" who went for jokes and not agenda, Kilmeade posited, in agreement with Sayet.
Later in the segment, Sayet sought to illustrate his point by presenting himself as an example. He related the story of the time he brought his show to the network Showtime, where the reaction he received was: "This would probably be the highest-rated show in our history, but we're not going to go with it because it's going to hurt our brand and other entertainers will be angry at us."
Kilmeade and Sayet did disagree at one point, when the former argued that Bill Clinton "got roasted all time." Comedy about Clinton was about his weight or promiscuity, Sayet asserted, whereas comedy about Dick Cheney and George W. Bush was about their "evil."
Take a look, via Fox News:

Have a tip we should know? tips@mediaite.com