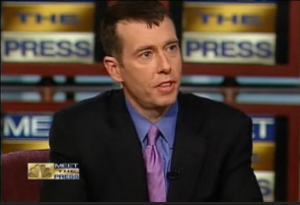 Former Barack Obama campaign manager David Plouffe, appearing on Meet the Press this morning, set the table for what will likely be the conversation of the week: The meaning of the "Palin Effect" in the NY-23 congressional race. It was a tiny part of a long interview about Plouffe's new book, The Audacity to Win, but he managed to crystallize the Democratic Party's hopes going forward.
"Sarah Palin is playing Pied Piper to the Republicans," he said, referencing Palin's endorsement of 3rd party candidate Doug Hoffman, which sank the Newt Gingrich-endorsed Republican candidate. He went on to say that the NY-23 race effectively hangs a "No Moderates Need Apply" sign in the RNC's window.
Many conservatives would argue that this is a good thing, that the war for the Republican Party's soul is more important than individual electoral battles. The reasoning is that, in the long run, the Party will have to abandon a strategy of moderation and support only strongly conservative candidates, which conservatives see as key to the long-term viability of the party.
The winner in Tuesday's race is pretty much beside the point, as Republican Scozzafava's withdrawal is the real trophy here, validating the strategy in the eyes of the purists. Polling at this point is unclear, but the Palin-backed Hoffman does have momentum going for him. If he wins, the GOP establishment may need to think about at least co-opting this strategy, if not full-on embracing it. If he loses a seat that has been held by Republicans for 100 years, it could touch off a full-scale civil war within the party.
As I see it, the Democrats win either way. A Republican Party that backs away from moderate positions on issues like healthcare reform,  gay marriage and reproductive choice is one that is out of step with the American people. Moves like NY-23 may ignite the base, but do little to grow a party that is suffering historically low party ID numbers.
Republicans already have a tough fight ahead of them. If the Democrats pass  health care reform bill that includes the overwhelmingly popular public option, Republicans will have to do some fast talking in 2010 to explain why their states' voters should opt out of it. If the economy continues to show positive signs of growth, voters will be hard pressed to turn it back over to the party that got them into this mess. Without a strong economic argument, they're left with a bunch of social issues thathave passed them by.
Considering all of this, it's hard to see how the party will benefit from either being split down the middle or shifted sharply to the right. With Palin as the conservative movement's most visible figurehead, it doesn't look like they've got much of a choice.
Have a tip we should know? [email protected]