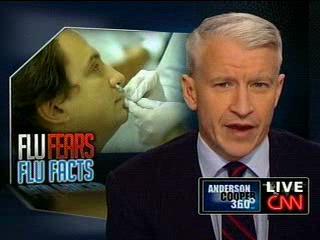 We've written a lot about Fox News' ratings. Here's the deal – they're on pace for their best year of all time in total viewers during prime time and total day.
CNN and MSNBC, on the other hand, are headed the opposite direction. Here's a look at the ratings from October, which officially came to an end yesterday.
In every category – total day and prime time, A25-54 demographic and total viewers, October has shaped up to be the worst month of 2009 for both CNN and MSNBC. But when comparing the networks, it looks worse for CNN, which, as reported by the New York Times today, dropped to fourth on cable news, even behind sister network HLN, in prime time demo.
A CNN spokesperson tells Mediaite:
We couldn't be more pleased that both our networks (CNN and HLN) are now topping MSNBC in total day and that CNN.com leads all TV news competitors on the web. As we have said for years, we measure our audience across all CNN Worldwide platforms and throughout the day, not just primetime. CNN provides quality journalism and our ratings reflect the news environment more than opinion programming does – especially in primetime.
There's no dispute that CNN has a broad range of outlets to measure its audience. It has a vibrant international network, a prime web destination and much more (there's an actual airport network as well). But – and this is important – the ratings drops on CNN during prime time are notably dramatic, and as HLN increases viewership there could be rumblings for a shake up.
Every CNN program is down more than 50% year-to-year in total viewers and the demo, but Anderson Cooper's 10pmET hour is down 72% and 79%. The top program right now, Larry King's 9pmET hour, is just the 16th best cable news program for October in total viewers, and 17th in the demo (More on that below).
CNN can say they measure their audience 'across all platforms', but lagging A25-54 demo numbers is a bad sign. As Daily Finance notes, although every cabler did well in October 2008 due to the election, CNN is down the most year-to-year in the category. Back in April 2008, for example, CNN President Jon Klein told the Atlanta Journal-Constitution, "That's the demographic that advertisers are buying."
Meanwhile with MSNBC, the cable network is stuck in 4th place in total day in both total viewers and the demo. HLN moves up to #2 in the demo, while CNN is #2 in total viewers. While its opinion programming in prime time has succeeded, the new line-up during the day is not nearly as successful.
Below is the program ranker for October. Fox News had the top 11 programs in the demo and the top 13 programs, again, in total viewers. Some other notes:
• The Nancy Grace repeat on HLN and Keith Olbermann repeat on MSNBC topped Anderson Cooper's live 10pmET show in the demo.
• CNN's late afternoon Situation Room performed better than both Cooper's 10pmET hour and Campbell Brown's 8pmET hour.
• Fox News' 3amET show Red Eye once again beat CNN's 8pmET show Campbell Brown in the demo.
—–
» Follow Steve Krakauer on Twitter
Have a tip we should know? tips@mediaite.com