Police Chief Battles With GOP Senator Over Gun Background Checks: 'You're Wrong!'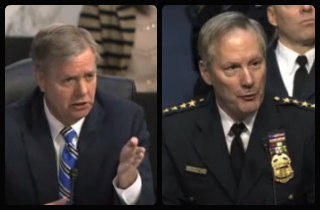 During yesterday's Senate Judiciary Committee hearing on the proposed "assault weapons" ban, Sen. Lindsey Graham (R-SC) and Milwaukee Police Chief Edward A. Flynn got into a bit of a heated exchange over whether expanded background checks would be effective given that Flynn's department doesn't have the means to enforce the laws currently on the books.
Echoing the arguments made by the National Rifle Association, Graham lamented that among the 80,000 people who fail a background check, only 44 people are prosecuted. "What kind of deterrent is that?" he asked. "I mean, the law obviously is not seen as that important. If it's such an important issue, why aren't we prosecuting people who fail a background check?"
"Just for the record, from my point of view, senator the point of a background check," Flynn began to speak before Graham interrupted: "How many cases have you made?"
"It doesn't matter, it's a paper thing," Flynn pointedly responded. When Graham continued to interrupt, the exchange became significantly more tense, with the police chief insisting that he be allowed to finish his answer.
"I want to stop 76,000 people from getting guns illegally. That's what a background check does. If you think we're going to do paperwork prosecutions, you're wrong," he explained as the gallery applauded.
Sen. Dianne Feinstein (D-CA) interrupted the exchange to ask for "civility" on both parts, noting that she and Graham had recently been "recognized for civility."
After Graham continued to press Flynn on why there aren't more arrests for the current background check laws, Flynn responded, "We don't make those cases. We have priorities. We make gun cases. We make 2,000 gun cases a year, senator, that's our priority. We're not in a paper chase. We're trying to prevent the wrong people from buying guns. That's why we do background checks. If you think I'm going to do a paper chase, then you think I'm going to misuse my resources."
Watch below, via C-SPAN:
[h/t TPM]
Have a tip we should know? tips@mediaite.com