Armed Police Evacuate Hundreds From Busy London Tube Station: Reports of 'Shots Fired' [UPDATE]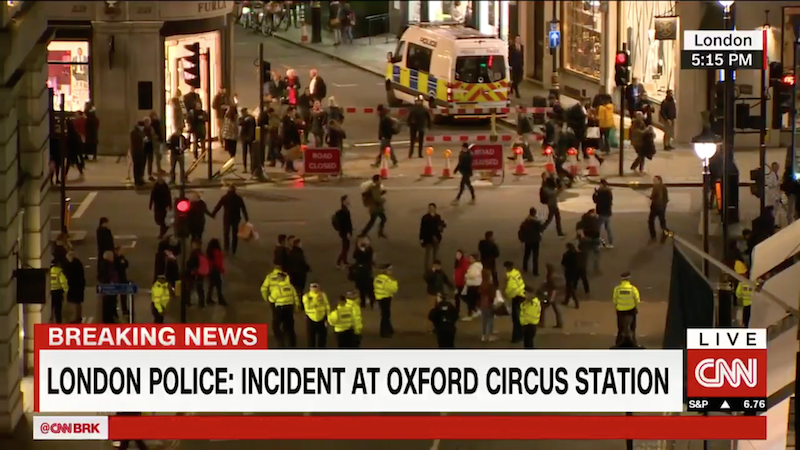 Police are investigating an incident at a London stop, with reports of people fleeing from the busy Oxford Street tube station in terror.
Witnesses on the scene have reported seeing a man with a gun and there have been reports of "gunshots" being fired, though information is scant at the moment.
The BBC has confirmed that police are on the scene.
This is a developing story.
UPDATE: 12:42 p.m. EST
The British Transport Police Authority has released a statement, noting that, thus far, only one person has been injured, though without giving information as to how she was injured.
"At this stage we have received one report of a woman receiving a minor injury," the statement read. "There are no reports of casualties."
UPDATE: 12:47 p.m. EST
London's Metropolitan Police have released a statement, suggesting that the earlier report that shots had been fired may have been erroneous.
UPDATE: 12:56 p.m. EST 
It looks like London's Tube service has been restored to Oxford Circus. Still no information as to what happened to cause the panic though.
UPDATE: 1:05 p.m. EST
London's Metropolitan Police has said they have stood down and have asked those seeking shelter in nearby businesses to leave. In other words, the storm has passed, though we still have no idea what kind of storm it was.
UPDATE 1:08 p.m. EST
London's Metropolitan Police have released a series of tweets that explain the incident and the thought process that went into treating it as a possible terror attack.
At about 16:38 we started to receive numerous 999 calls reporting shots fired in a number of locations on #OxfordStreet & at Oxford Circus tube station. Given the nature of the info received we responded as if the incident was terrorism, including the deployment of armed officers

— Metropolitan Police (@metpoliceuk) November 24, 2017
Additional officers remain on duty in the West End to reassure the public. We thank the public for their patience and assistance during our response. If you see anything suspicious dial 999 immediately #OxfordStreet

— Metropolitan Police (@metpoliceuk) November 24, 2017
UPDATE: 4:38 p.m. EST
Eyewitnesses have stated that the whole ordeal was sparked by a fight between two passengers and had nothing at all to do with a terror attack.
[image via screenshot]
Have a tip we should know? tips@mediaite.com