Update: Police Investigate Now-Confirmed Contact Between Rep. Weiner And Underage Delaware Girl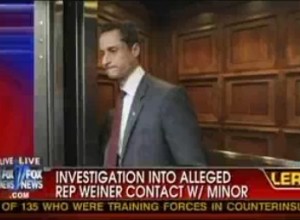 Fox News is reporting that New Castle, Delaware police have contacted a 17 year-old high school girl regarding her possible Twitter contact with Rep. Anthony Weiner. The girl's name has been withheld, but some blogs have referred to her by the pseudonym "Ethel."
At this point, little is known beyond the fact that the girl was questioned for about half-an-hour. The girl's Twitter history is now protected, but as the story emerged last week, was the subject of much speculation in the blogosphere.
Here is Fox News' report:
As Shep Smith points out, the contact in question could be completely innocent. Fox News contributor Kirsten Powers, who briefly dated Weiner, opined that Weiner would not likely resign unless evidence of illegality emerged.
"Ethel's" Twitter feed first raised suspicion in the early going of the Weinergate scandal when she tweeted that she was "talking" to Rep. Weiner on April 13. Fox News sources confirm that Rep. Weiner sent "Ethel" a private Direct Message, and while that has obviously raised suspicion, it could easily have been an automatically-generated message like the one sent to "Betty," another underage follower of Rep. Weiner's.
According to the girl's Twitter feed, she asked Rep. Weiner to "follow back" on April 13, and that "some sickos" were trying to cast it in a sleazy light. She later tweeted these "sickos," a Twitter group which included the person who first discovered the Friday night tweet that started it all, to "please stop."
We attempted to contact "Ethel" when the Weinergate story first broke, but she did not respond.
Rep. Weiner's disclaimer that all of his illicit contacts were adults "as far as I know" gains import in this circumstance, although "Ethel's" Twitter feed contains copious references to her high school age.
She also expresses a keen interest in politics. "Ethel" also follows, and is followed by, Sen. Chris Coons (D-DE) and Sen. Chuck Schumer (D-NY), although Schumer and Coons each follow several thousand people, as opposed to the approximately 200 that Weiner followed at the time this scandal broke.
Fox News' online report states that, following questioning, the police left, "followed by the daughter and mother, who left in a separate car. It was not clear if the mother and daughter were going to continue the conversation with police at another location."
If there's any good news for Weiner to be read from that, it's that the reporter did not note the police removing any computers, or other evidence, from the residence. The New Castle Police have not returned calls for comment, and their public information officer's voicemail is full, so it could be some time before more details are known.
Update: Politico reports that Rep. Weiner admits to having contact with the girl:
 A Weiner spokeswoman emailed a statement in response to the reports that confirmed his contact with the girl, but denied anything was amiss.

"According to Congressman Weiner, his communications with this person were neither explicit nor indecent," said the statement.
This apparently eliminates the possibility that the message in question was automatically generated, and seems to indicate multiple contacts. It also has much deeper implications for Weiner's future. The girl in question, "Ethel," posted what may be a quote from one of those DMs to her since-deleted Tumblr account which read "I came back strong. Large. In charge. Tights and cape shit…"
While such a message might not qualify as "explicit" or "indecent," it would certainly raise the eyebrows of any parent of a 17 year-old. A 46 year-old man sending such a message to a child, when that child had professed a crush on him, strains for an innocent explanation.
The fact that he used a similar overture with another woman, saying he was a ""caped crusader . . . looking for my sidekick," makes this message damning enough to force Weiner to resign. Regardless of the results of the New Castle police investigation, Weiner will need to provide full disclosure of his communications with Ethel, and if this message is among them, he will have to resign.
Update 2: The New York Times' Jennifer Preston confirms the "cape and tights" message with a member of "Ethel's" family:
On May 16, he began following the girl again, and over the next 10 days they had three private message exchanges, the family member said.

One was about baseball. In another, he replied to a question she had about legislation by jokingly asking for her advice, the family member said. His third message to her was in response to a link she posted to a YouTube video of his giving a speech, with the message: "My true love."

In a blog post on Tumblr, she later shared the contents of that private message from him. In it, Mr. Weiner appeared to liken himself to a superhero.

"I came back strong," he wrote. "Large. Tights and cape. …"

On the Tumblr blog post she added, "My favorite Congressman."
We may never know what would have come next, since the Weinergate story broke the following night, but Weiner has a lot of explaining to do. Preston also reports that the girl's family does not expect the police to take further action.
Have a tip we should know? [email protected]te.com