Police Sergeant Faces Investigation Following Incident Involving Chick-Fil-A, Lesbian Co-Workers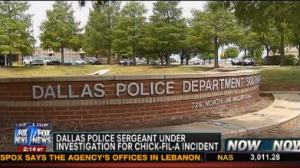 A Dallas police sergeant named Mark Johnson has been transferred and reassigned to an overnight shift while being investigated over an incident involving a Chick-fil-A sandwich.
Johnson, you see, is said to have entered into the station's briefing room with a Chick-fil-A sandwich on "Chick-fil-A Appreciation Day" — a day organized by Mike Huckabee in support of comments made by Chick-fil-A's CEO regarding same-sex marriage. Two lesbian officers at the station filed a complaint claiming that Johnson placed the sandwich directly in front of them during the briefing — which allegedly included information about the Chick-fil-A demonstrations going on that day — and acted in a manner that left them "embarrassed and humiliated" because he had been trying to "send them a message."
Now. I wasn't in that briefing room, difficult as that may be to believe, and I don't know what exists within Mark Johnson's heart. Maybe the guy just happened to stop by a Chick-fil-A on that particular day because their waffle fries are delicious.
But this is the problem with people politicizing food (and other products): It runs the risk of turning what could have just been a nice, if slightly greasy, meal into a statement and, possibly, a (figurative, calm down) weapon against his co-workers.
Guys. I hate this story. I hate this Chick-fil-A so, so, so much and I harbor an intense dislike for every single person involved. I hate it all with the burning intensity of sixty-seven thousand deep fryers. Because now my chicken biscuit is not just slowly turning my internal organs into a (rich, probably delicious) gravy, it will be viewed, at least for the foreseeable future, as not only a deliberate and political choice, but a potential weapon. And that is a terrible thing to do to a chicken sandwich, particularly since the media (a machine of which I am a part, yes, guilty) continually fails to recognize that people reserve the option to not care at all, and to exercise that apathy accordingly.
Anyway. Check out the whole stupid terrible chicken thing, via Fox News:
Have a tip we should know? tips@mediaite.com