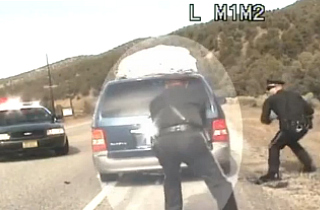 Newly-released dashcam video shows New Mexico police pulling over a Tennessee mother and engaging in a heated altercation with her before shooting at her minivan carrying five children as she attempts to speed away from the scene.
Tennessee mother Oriana Ferrell was pulled over by New Mexico State Police after reportedly going 71 miles per hour in a 55 miles per hour zone. When an officer went to go fill out paperwork in his cruiser, Ferrell sped off.
Officers catch up with her and pull her over again, resulting in more verbal confrontations between the parties. She initially refuses to exit the vehicle, leading to officers attempting to forcibly remove her as her children, reportedly ages 6 to 18, scream from inside the car.
Eventually Ferrell's 14-year-old son exited the vehicle to confront the officers, leading to a policeman drawing his taser to force the boy to retreat.
Ferrell eventually got out of the car, but as she was told of the charges she faced, she attempted to run back into the driver's seat.
And from there, the situation escalated quickly: an officer took his baton to the car windows, attempting to extract the family from the vehicle; Ferrell starts to drive away; an officer who arrived as back-up fires three shots at the van as it departs the scene.
After a high-speed chase, Ferrell finally pulled into a hotel lot and surrendered to police along with her 14-year-old son. The mom faces five counts of abuse of a child, aggravated fleeing of an officer, resisting an officer, reckless driving and possession of drug paraphernalia, according to The Taos News. The son was charged with battery of an officer.
The two police officers involved in the traffic stop are currently under investigation.
Watch the report below, via KQRE News 13:
— —
>> Follow Andrew Kirell (@AndrewKirell) on Twitter
Have a tip we should know? tips@mediaite.com