Political Animals Is The Political Family Soap Opera We've (I've) Been Waiting For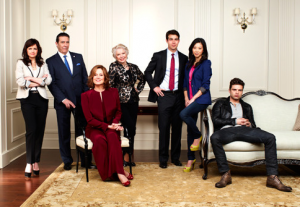 At first glance, Political Animals looks like a bid by USA to branch out from their usual rather frothy original programming and try their hand at prestige television. And the show certainly looks like prestige television — it boasts Sigourney Weaver as the iron-willed secretary of state, failed presidential candidate and quasi-Clintonian politico Elaine Barrish, with Ciarán Hinds as her former husband (and the former President of the United States) and Carla Gugino as something of a Maureen Dowd analog with whom Elaine spars throughout the pilot episode. It's expensive, it's glossy and there are lots of swelling strings backing up characters' inspirational speeches, but that's not what makes the show stand out. What does make it unique is that it is a Greg Berlanti joint. Berlanti is the man who has given us many beloved family soaps like Everwood and Brothers and Sisters over the years. Political Animals is definitely far more of an expensive soap opera than a political drama.
And thank goodness it is, because it is super fun to watch. In the pilot episode Elaine struggles with losing the nomination for the presidency and working under the man who beat her (played with smarmy perfection by Adrian Pasdar), despite being far more willing to take action when the administration is surprised by a hostage situation in the Middle East. The hostage story, by the way, is one of many ripped-from-the-headlines flourishes that make comparisons between Elaine Barrish and Hillary Clinton very difficult to deny. Also adding to the similarities is Elaine's ex-husband, a philanderer with a heart of gold and charisma to match. He's played with a slow as molasses drawl and an over the top virility by Hinds that would seem ridiculous if it weren't for the many, many other ridiculous things that happen on this show. To wit: some of the best moments from Sunday's pilot episode are below.
1.Said by an MSNBC reporter as Barrish's gay son Thomas enters a ballroom to hear his mother's concession speech: "Everyone kept waiting for [Thomas's] homosexuality to be an issue in the campaign, but it wasn't."
2. When Barrish hits the campaign trail in support of Senator — and soon to be President — Garcetti (Pasdar), she introduces him and then they have a coordinated dance number onstage to The Staple Singers' "I'll Take You There."
3.Barrish gets her butt grabbed by the Russian Foreign Minister while she is delivering a speech to a roomful of reporters. When the press conference is over she tells him "I will fu*k your sh*t up" in Russian. I can honestly say it is one of the more amazing things I've seen on television.
4.Elaine Barrish's mother, played by Ellen Burstyn, refers to Gugino's reporter character as a "bitch with a capital C."
5. One of Barrish's advisers tells her, during the hostage crisis, "It's the Middle East. It's the diplomatic equivalent of the instructions from IKEA. It doesn't make any sense."
If none of those moments are your cup of tea, then Political Animals is probably not right for you. If, however, you dream of a show that is one part Brothers and Sisters,, The West Wing and one part Dynasty, you have come to the right place. This show is like if The Newsroom knew how ridiculous it was, decided to beef up their "amazing pantsuits" wardrobe budget, and replaced Emily Mortimer with Sigourney Weaver, who actually kicks ass and certainly seems to know her way around an email. The worst thing about the show is that it will only be with us for a scant six weeks. You can see a sneak peek of the show below, via USA:
Political Animals premieres on Sunday, July 15th at 10/9 Central on USA.
Have a tip we should know? tips@mediaite.com