POLITICO Confuses Morning Joe Crew: Whose Brother Did Chuck Hagel Save In Vietnam?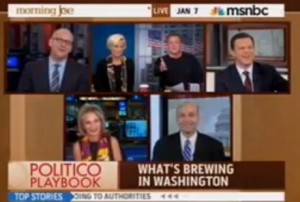 Grammar rocked the set of MSNBC's Morning Joe Monday morning, as contributor John Heilemann led panel and hosts in a long discussion of Senate Minority Leader Mitch McConnell's (R-KY) possible opposition to the expected nomination of former Sen. Chuck Hagel (R-NE) as Secretary of Defense, despite Hagel's heroic actions to save McConnell's brother during the Vietnam War. The basis for their discussion was a notation in POLITICO that, during a farewell address to Hagel, "McConnell praised Hagel's heroism in Vietnam, noting how Hagel saved his brother — with whom he also served — by dragging him out of an armored personnel carrier that exploded after hitting a landmine."
Heilemann told the panel that the White House has been "sending around" an excerpt of a POLITICO piece "with quotes from McConnell's farewell speech to Hagel where he points out that Hagel saved McConnell's brother in Vietnam."
The revelation drew surprised laughter from host Joe Scarborough. "So Mitch McConnell's brother's life was saved by Chuck Hagel?"
"Dragged out of an armored personnel carrier that exploded after hitting a land mine," Heilemann replied. "Hagel pulled McConnell's brother out."
The hosts and panel continued to discuss Hagel's nomination, including his heroic salvation of Mitch McConnell's brother, for several minutes.
Since the White House floated Sen. Hagel's name as nominee for Secretary of Defense, a nomination that's expected to be made official today, Republicans have signaled that they will push back hard on the pick, but most observers expect Hagel to be confirmed anyway. The fact that congressional Republicans plan to oppose the nomination of a Republican as Secretary of Defense already smacks of obstructionism, but opposing a nominee who saved your own brother's life would be downright deranged. Unfortunately for the Morning Joe crew, that's not actually what happened.
Following a weather report, Scarborough came back to have Willie Geist make a "small correction."
"Chuck Hagel saved the life of his own brother," Geist explained. "He served side by side with his younger brother in Vietnam."
Mark Halperin pointed out that even saving your own brother "ain't bad," and Scarborough quipped "(McConnell) hates (Hagel) because he saved his own brother? What's he got against brothers?"
After a commercial break, POLITICO editor Mike Allen defended the passage that caused the confusion, citing grammar rules. "A pronoun refers to the proper noun or the noun before it," Allen smugly asserted.
Allen may have the letter of the law on his side, but as Heilemann pointed out, inclusion of the word "own," as in "Hagel saved his own brother," would have cleared up any confusion. POLITICO isn't in the grammar essay business, they're in the news business, which places the burden of clarity on them, not the reader. On the other hand, Morning Joe isn't just a collection of news consumers, either. They're in the news business, too, and probably should have double-checked Heilemann's read when the story first raised alarm bells.
Here's the discussion of McConnell's lucky "brother," the subsequent correction, and Allen's defense of POLITICO's reporting, from Morning Joe:
Have a tip we should know? tips@mediaite.com