POLITICO Reporter: On Guns, Wayne LaPierre Looks Like 'Tired,' 'Old, White Guy' 'Clinging' To The Past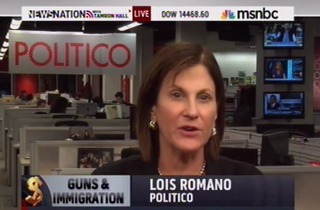 On Monday, POLITICO reporter Lois Romano was asked for her opinion on National Rifle Association CEO Wayne LaPierre's ongoing public feud with New York City Mayor Mike Bloomberg. Romano told MSNBC anchor Tamron Hall that LaPierre is at a disadvantage in his fight with Bloomberg over new gun laws, saying that the gun rights advocate looks like a "tired" and "old white guy" who is "clinging" to the past.

RELATED: Wayne LaPierre Blasts Bloomberg On Guns, Calls Him 'Insane' And 'Reckless' On NBC
Hall played a clip of LaPierre on Sunday's Meet the Press where he insisted that, in spite of the personal funds that Bloomberg plans to spend to influence lawmakers to support new gun control measures, he cannot "buy America."
Hall countered that the NRA spends a significant amount of funds in support of lawmakers who oppose new gun laws.
Romano agreed. She said that LaPierre made a "clever" point on Sunday when he wove in Bloomberg's support for new gun laws with his effort to curb personal consumption of sugars and salt. However, she said that the "optics" of LaPierre's fight with Bloomberg were not favorable to the NRA CEO.
"Bloomberg has on his side this whole notion that it's time to do something different," Romano said. "And Wayne LaPierre is looking like a tired, you know, old white guy that's clinging on to something of the past."
Watch the clip below via MSNBC:
> >Follow Noah Rothman (@NoahCRothman) on Twitter
Have a tip we should know? tips@mediaite.com