POLITICO Reporter On MSNBC: Sarah Palin Would Be The 'Crazy Cousin Eddie' Of GOP Convention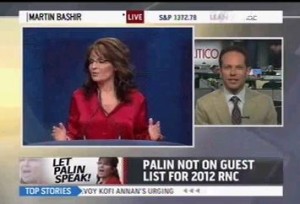 As of today, Sarah Palin has not received an invitation to speak at the Republican National Convention in Tampa. On MSNBC today, guest host Michael Eric Dyson, filling in for Martin Bashir, questioned why Palin is being looked over to speak when she was so popular at the 2008 convention. POLITICO's Ken Vogel compared Palin to a family's "crazy cousin Eddie" that no one would rather be around.
RELATED: Sarah Palin Blames Media 'Manipulation' For Romney's Polling, Warns Voters Are 'Wiser' This Time
Dyson said he "so want[s] to see her speak" at the convention, and wondered what must be going on within the GOP to hold off on inviting Palin. Vogel compared the convention to a family reunion in order to explain why Palin might not be a welcome presence.
"And with those family reunions, you get the crazy cousin Eddie that you don't want to sort of monopolize the platform."
Dyson pointed out that even if crazy cousin Eddie shows up drunk and acts inappropriately, "he's still showing up." Vogel suspected Palin might end up playing a small role at the convention, pointing out that she has already reserved space in Tampa when the Republican National Convention comes into town.
However, Dyson pointed out that Palin does have her supporters, highlighting Newt Gingrich saying that Palin should speak because she "motivates and arouses an entire base." First off, kudos to Dyson for not making an easy arousal joke. But he and guest Joy Reid actually agreed with Gingrich that in contrast to the lack of excitement surrounding the party's actual candidate, Romney should surround himself with people like Palin who will excite the Republican base.
Watch the video below, courtesy of MSNBC:
—–
Follow Josh Feldman on Twitter: @feldmaniac
Have a tip we should know? tips@mediaite.com
Josh Feldman - Senior Editor