Politico Scribe: Confederate Flag 'Reflects Badly' on GOP, but 'There's No Reason it Should'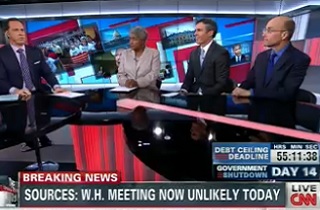 The presence (or omnipresence) of a Confederate flag at Sunday's protest in Washington DC is being given the "one rotten apple" treatment by the mainstream media, despite the Tea Party-heavy crowd's obvious comfort with the banner at every stop on the protest. On CNN's The Lead with Jake Tapper Monday afternoon, host Jake Tapper discussed the incident with his panel, which Politico's Mike Allen decided "does reflect badly, even though there's no reason it should."
Tapper began by asking about the protest, and described the Confederate flag incident as "one person, a protester who had a Confederate flag outside the White House, who offended a lot of people."
While the flag's presence in front of the White House was reported by CNN on Sunday, the fact is that the man with the Confederate flag was omnipresent for the entire protest, which began at the World War II Memorial, and ended up at The White House. Raw news video shows the flag at several locations, without any complaint by the protesters, and even shows the man leading chants at the White House. At one point, with the flag mere feet away, protesters opted to confront, and chase off, a black man who had gotten out of his car rather than say word one to the white man with the Confederate flag.
CNN contributor and Democratic strategist Donna Brazile denounced the incident as "incendiary," adding that "for them to bring that flag at this moment and the kind of words they used, very inflammatory. It had no place."
Republican strategist Kevin Madden called the flag "pure pageantry," and said that "it should not, and I don't think it will, deflect from the larger message that Republicans have on their differences over policy with the President and Democrats."
"All that, and they're just a dope," Politico's Mike Allen added. "That's obviously going to undercut what they're saying, and does reflect badly, even though there's no reason it should."
Tapper lamented that "If you look at pictures from that rally, you have all these very moving pictures of veterans, photographs of veterans."
The group that actually organizes Million Veterans March events for those vets, though, has denounced the way the protest was "hijacked" for political purposes, and not just by the guy with the flag, or those who felt comfortable around him.
Madden and Brazile are openly partisan contributors, but Mike Allen writes for ostensibly objective and narrative-setting Politico. If he's going to declare that a protest under a Confederate flag, on President Obama's front lawn, attended by the Republican base's most popular voices, should not reflect badly on them, then he needs a better explanation than "because."
Here's the clip, from The Lead:
Have a tip we should know? tips@mediaite.com