Fox Dismisses Politico Report Claiming Kristol Left Fox Because of Fight with Ailes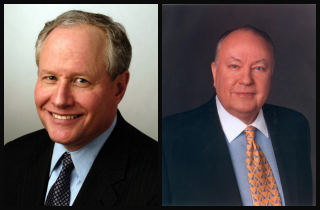 In an article titled "Why Bill Kristol Left Fox," Politico media reporter Dylan Byers quotes sources saying that the Weekly Standard editor ended his decade-long run at Fox News after a fight with network chief Roger Ailes. In a statement to Mediaite, a Fox spokesperson denied such claims.
Kristol's term as a Fox contributor recently came to a close. The news was made public when he declared himself a "free agent." Although he has appeared on the network several times since, he has also participated in panels on MSNBC and CNN.
According to Byers' source, "In 2011, the Fox News chief asked Kristol to take a negative stance toward a certain individual, effectively helping Ailes in his effort to give that person a bad reputation." He added: "Kristol refused to get involved in Ailes' personal arguments and, as a result, there was a "coolness" between the two going forward. Though the relationship remained cordial, Ailes felt he could no longer trust Kristol to be a team player."
-RELATED: How Does He Keep Getting A Platform? Bill Kristol's History of Terrible Predictions and Bad Advice
Speaking with Mediaite, however, a Fox spokesperson denied the source's claims, telling us:
"Roger doesn't recall a specific or negative incident — he likes Bill and doesn't have an issue with him. We made a lot of changes at the network and had been talking to George Will for some time. At this point, Bill's contract ran out and we declined to renew it."
— —
>> Follow Andrew Kirell (@AndrewKirell) on Twitter
Have a tip we should know? tips@mediaite.com