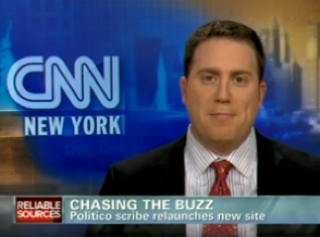 Politico's Ben Smith left many media heads askew in confusion when he announced that he was leaving the major political publication for Buzzfeed, previously most popularly known for its vast library of adorable animal videos. Howard Kurtz was certainly among those that didn't see anything about this media move coming, and naturally had a few questions for the new editor in chief on his program yesterday.
RELATED: Whoa: Ben Smith Is Leaving Politico For BuzzFeed
"Is this a good fit for you?" Kurtz asked, after (good-naturedly?) mocking Buzzfeed for a few minutes for its coverage of important cat memes and Ryan Gosling. Smith admitted that "the site is going to change a lot," but what he refused to touch was its status as the "beating, viral heart of the internet." His addition to the Buzzfeed family, Smith explained, was a reaction to the fact that "people want tos share serious reporting, powerful photojournalism… the kind of stuff we like to do." He promised "some fails along the way– and possibly some LOLs!"
Kurtz was still a bit concerned about a model based on what social media would like to be fed, as opposed to what editors deemed important, calling it a "tyranny of the majority that can lead to some silly stuff." Smith dismissed the claim, adding that it was a "great advance from SEO," which forced writers to "write the dumbest headlines possible so that the machines will like them." He did, however, promise cat pictures– "and I love cat pictures!"– but not exclusively cat pictures.
The interview via CNN below:



[h/t Buzzfeed]
Have a tip we should know? tips@mediaite.com