Politico's Ken Vogel Refuses To Confirm Or Deny Cain Story Came From Rival Camp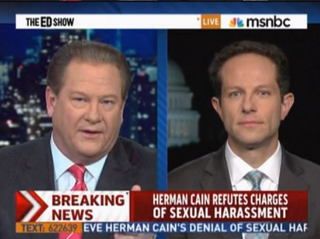 As the fallout continues from last night's scandalous Herman Cain exposé, many trying to parse Cain's response to accusations of having had to settle a sexual harassment claim as head of the National Restaurant Association, while the Cain campaign has tried to turn the tables on Politico for breaking the story. On the Ed Show tonight, Politico's Ken Vogel elaborated on the work that went into story, but refused to confirm or deny who fed the site the story.
Host Ed Schultz opened up his interview with the reporter by asking for an assessment on how Cain had responded, a series of clarifications that Vogel considered "a little ham-handed," especially given that "we had initially approached the campaign ten days before the story came out," giving them plenty of time. The resulting response to the piece proved to Vogel that there was a high chance that within Cain HQ there was "a failure by the campaign to see the seriousness of this, as well as coming up with a coherent response."
RELATED: Video: Herman Cain Asks Politico's Jonathan Martin 'Have You Ever Been Accused Of Sexual Harassment?'
To claims that the attack was somehow personal, Vogel responded that there was heavy reporting invested in the piece, that it was not hearsay. "Regardless of where we got it," he explained, "we spent a lot of time, we did dozens of interviews." He also claimed that the reporters "physically examined one of these settlements" and refrained from publishing until "we got to the point that we were extremely confident."
Speaking of "where we got it," Schultz was curious to see if he could get from Vogel who tipped the reporters off to the story. "Can you emphatically state tonight that no other campaign was involved?" he asked. He did not get a yes or no answer, but only that "we're not going to get into our sourcing," but that they had the facts on record to report it. "What was important to us was that we were about to verify what was initially a very vague, sort of broad contour of the story… and present it in a way that has yet to be challenged," Vogel explained.
RELATED: Rush Limbaugh: Herman Cain 'Hit-Piece' Is Purely About Blacks 'Getting Too Uppity'
From there, Schultz returned to Cain's responses to the allegations, which Vogel mostly shrugged off as a "semantics" quibble than a legitimate gripe with his organization's reporting.
The segment via MSNBC below:

Have a tip we should know? [email protected]