PolitiFact Nails Chris Matthews For Misrepresenting Florida Voter Registration Law
PolitiFact Nails Matthews For Misrepresenting Florida Voter Registration Law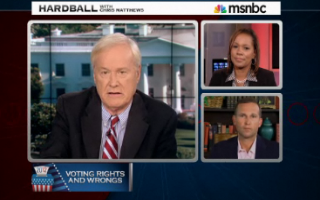 PolitiFact took MSNBC host Chris Matthews to task for a claim he made on his program last week where he criticized a 2011 Florida law that imposes a 48-hour deadline on new voter registration groups. "The 48-hour rule basically makes it impossible to meet the deadline if you're working right to the end of the week," said Matthews. PolitiFact rated this claim as "false"

RELATED: Wait A Second, Was Chris Matthews's Bizarro British Twin Just On MSNBC?
In a June 4 interview with the Florida Republican party Chairman Lenny Curry, Matthews accused Curry and his party of instituting voter registration laws that intentionally restrict voter's abilities to register.
On his program, Matthews read from a Florida judge's ruling on the law: "if the goal is to discourage voter registration drives, and thus also to make it harder for new voters to register, this may work," Matthews read.
"Lenny Curry, you're the chair of the Republican Party down there. Was the intention to suppress the vote down there, as Judith says, or it had some other purpose," Matthews asked. "Why would you set a requirement you got to get your petitions in, in 48 hours? Why did you set such a requirement and a law?"
Curry responded in the negative and said that, in his view, such a deadline was reasonable. Matthews disagreed:
"Well, wait a minute. I'm going to call you there because everybody watching can figure this one out. If I'm working in front of a Safeway somewhere and I'm collecting registrations — I'm registering people who aren't registered — and it's Friday afternoon at 5:00 p.m., I can't even technically turn those in until Monday. That means it's already elapsed, the 48 hours.

"So, under the law, nothing I get done late Friday afternoon is of any value and probably some of the stuff early Saturday morning. The 48-hour rule basically makes it impossible to meet the deadline if you're working right to the end of the week, right, Lenny?"
"You don't have to be a lawyer to own a calendar or know what a weekend is," Matthews continued. "A weekend is 48 hours."
Matthews ended the interview by suggesting that he would take Curry to minority neighborhoods in the city of Philadelphia to participate in securing voter identification. "I could take you to some interesting neighborhoods, buddy," said Matthews.
PolitiFact took issue with Matthews claim that voter registration organizations would be unable to process new voters if they turned their petitions in on a Friday:
There's no doubt the deadlines were deterring groups from going out to register voters. After the law's passage, the League of Women Voters said they wouldn't conduct their usual voter registration drives because the new requirements were too difficult to meet.

But Matthews said that Florida's 2011 voting law made it impossible for third-party groups to register voters on Friday afternoon, because a 48-hour deadline to turn in those applications would expire before the elections office opens Monday morning.

That's not correct. The law factored in weekends and holidays and gave voter registration groups until the next business day. We rate Matthews' claim False.
Watch the Matthews clip from June 4 below via MSNBC:
h/t NewsBusters
Follow Noah Rothman on Twitter
Have a tip we should know? tips@mediaite.com