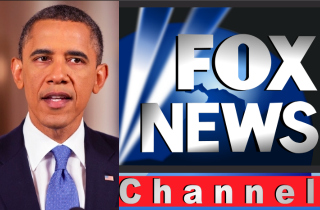 A new survey by St. Leo University finds more Americans trust Fox News than trust President Barack Obama when it comes to the issue of climate change.
While 17% of people picked Fox News as a reliable source on climate change, only 11% selected President Obama, with a slightly higher 13% choosing the U.S. government.
The most reliable source was "non-government scientists and educators" at 45%, followed by environmental groups at 33% and "mainstream media" including U.S. newspapers, broadcasters, CBS, ABC, NBC, CNN, Associated Press and The New York Times at 22%.
Also at 22% was astrophysicist and host of the upcoming Star Talk show on NatGeo, Neil deGrasse Tyson. He was by far the highest-ranking individual option on the list. Way down at 6% were "radio commentators" Sean Hannity and/or Rush Limbaugh.
In some ways this poll of 1,016 Americans, which also found that 57% of Republicans and 88% of Democrats are "somewhat" or "very" concerned about climate change, mirrors last month's Gallup poll that emphasized the sharp divide between the left and right on this issue.
In that poll, 74% of college-educated Republicans said they believe global warming is "generally exaggerated" while only 15% of college-educated Democrats said the same. If you belong to a portion of the population that thinks concern over global climate change is overblown, then you are likely to trust a media outlet like Fox that confirms that belief.
Over the last year, Fox anchors like Brian Kilmeade, Eric Bolling and Stuart Varney have all expressed deep skepticism that humans are making the planet warmer.
And Fox's weather coverage has managed to work in a bit of skepticism towards anthropogenic climate change, as you can see in this promo from February:
[h/t Huffington Post]
[Photo via Fox News/screengrab]
— —
>> Follow Matt Wilstein (@TheMattWilstein) on Twitter
Have a tip we should know? tips@mediaite.com