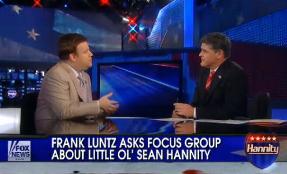 Pollster Frank Luntz does two things really well – come up with phrases that work ("death tax" anyone?) and lead a group of people in real-time dial polling.
He took the polling to a new, personal level last night, asking what an Arizona group thought of Sean Hannity. Guess what? They love that great American!
"We had 23 people in that room," Luntz told the host during an appearance on his show last night. "Only two of them had something negative to say about you."
And even those who had something negative to say weren't that negative. One woman said "he talks a lot," but she later said she's really like to go to dinner with Hannity. The majority of the group threw around terms like "great American" and "patriot," with one woman saying, "I think he does a great job at getting people really emotional about something, he gets them real amped up ready to talk."
But it was this comment that Hannity liked the most: "He exposes things that other commentators don't." (Maybe other commentators like, oh I don't know, a guy on at 5pmET who all of a sudden has become the #2 guy at Fox News after only being there for about a year?)
Although the host said the 'do you like me?' poll happened without his knowledge, and he didn't know what to expect before rolling the tape, he certainly relished all the positive reinforcement from "ordinary Americans." "I learn, I try to improve," said Hannity. "If I think the criticism is valid, I try to improve."
Luckily Luntz found a group that liked Hannity just the way he was!
Check out all the love for Hannity:


—–
» Follow Steve Krakauer on Twitter
Have a tip we should know? tips@mediaite.com