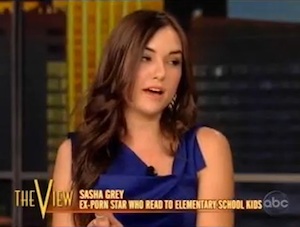 Porn star and notorious reader Sasha Grey appeared Wednesday on The View to defend herself from critics who lambasted the adult film actress for reading to children. "I think there was a lot of sanctimonious media firestorm thrown at me," Grey exclaimed. "However, I've always gone after what I want and I will continue to do that."
"What if the parents had said, 'I object'?" moderator Barbara Walters questioned.
"Then I wouldn't have done it — but there was no notice sent out," Grey responded.
RELATED: Cue Outrage: Porn Star Sasha Grey Fights For Her Right To Read To First Graders
"That was the issue I had," panelist Sherri Shepherd noted. "Parents were not informed. My thing was that my son, Jeffrey, is 6-years-old…if he came home and asked 'who's Sasha Grey?' — I would like to let him know, this is a fireman…"
"She's also an actress, don't forget," Whoopi Goldberg reminded Shepherd.
Walters asked why the former porn star had wanted to read to children.
"Reading was very important to me as a kid," Grey explained. "It was very inspirational to me. I went to a school where that wasn't encouraged so much but my parents encouraged that and it has made me part of who I am."
"My question is it always going to be there as a stigma?" Walters asked.
"I'm just curious about the stigma," Goldberg interjected. "You haven't killed anybody, you haven't raped any children, you haven't vomited, you know, in church–you know what I mean?"
"Being a porn star is not something you hope that your children will aspire to," Walters countered. "You could've been a teacher."
"I don't have any regrets," Grey said. "This is something I wanted to go after, one of the large reasons was to stop the stigma that people have against the adult film industry…I grew up ashamed of my sexuality and I felt guilty and disgusted at my sexuality and the more I researched and opened my mind, it felt to me like it was a good decision, and I don't have any regrets."
"I would like to devote my time contributing to the community in some form," Grey continued. "Those kids were so happy."
Watch Grey defend her community service below via ABC:

Have a tip we should know? tips@mediaite.com