Olbermann Blasts Fox, 'Pornographer Of Propaganda' Breitbart In Special Comment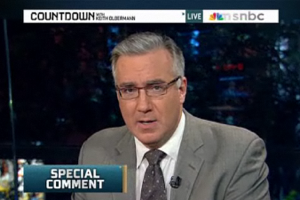 A vacationing Keith Olbermann took a breather from his breather to deliver a "Special Comment" on Shirley Sherrod, and, boy, this one is a classic. To his supporters, it is the wake-up call that the White House needed to get them to realize, in Olbermann's words, that it is "a freaking war out here" against conservatives. His detractors won't be able to tell the difference between this clip and the now-legendary Ben Affleck Countdown skit.
In the nearly ten-minute-long segment, Olbermann begins with an anecdote of treason from the 19th Century, then takes it to the Sherrod story, and spends several minutes ripping into Fox News' "perpetual smear machine" and, especially, "the scum that is this assassin 'Breitbart,'" the scare quotes dripping off his voice whenever he mentioned Andrew Breitbart.
Before the special comment, it was unclear whether Olbermann spend more time going after the NAACP for their errors, the White House for not doing their homework on the Sherrod tape before commenting, or Breitbart and Big Government for their role in the media mess. While he did go through why he believed the NAACP and the White House was wrong, Olbermann spent a great deal of time explicitly attacking Breitbart– the "Pornographer of Propaganda"– Fox News, and the greater right-wing media. "What you see on Fox News, what you read on right-wing websites is the complete perversion of journalism," he explained, and "a political guillotine."
Then Olbermann turned to the Obama administration, but rather than taking the offensive on them, he seemed to be trying to shake the White House into action. "Mr. President, please, stop trying to act every minute like some neutral figure… it is a freaking war out here."
He concluded with yet another apology to Sherrod– and a request that she take up a role in the White House, where he believes she "is needed."
The entire video is below:

Have a tip we should know? tips@mediaite.com